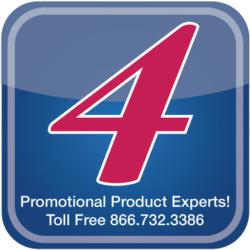 Essex, CT (PRWEB) January 17, 2013
A new year means out with the old and in with the new. Counselor Magazine recently published the "11 Marketing Words Banned in 2013." Businesses, marketers, advertisers and consumers must be wary of these overused words. The promotional products business is littered with competitive language that is why the 4AllPromos team stays on top of the big headlines from top industry publications. It's time to usher in a new strategy in 2013 with fresh ideas and products. 4AllPromos can help businesses and customers start off on the right foot in 2013.
The complete list of Counselor Magazine's "11 Marketing Words Banned in 2013" include: customer focused, best in class, low-hanging fruit, exceed expectations, unique, value added, expert, seasoned, exceptional ROI, partner and turn-key. Think of how many times you've heard those words in the past year. It's likely those words have appeared in commercials, print advertisements, billboards and even through web-based advertising.
Help staff writers avoid the pitfalls of ambiguous and boring marketing copy by posting this list of banned words in the office. Offer incentives to employees who generate new, exciting and interesting copy, advertising or marketing plans. Or, ask customers to do the talking. Use social media outlets such as Facebook, Twitter, LinkedIn or even Instagram to find out what customer's are really clambering for.
Let products and services speak for themselves. Think simple. For example, Apple has one of the cleanest marketing campaigns out there. The stark white canvases are recognized across the globe and thus Apple is one of the most dominant companies worldwide. 4AllPromos carries thousands of unique promotional and custom imprinted products including drinkware, tote bags, apparel, pens, earth-friendly products, party planning items and more. Why not diminish advertising costs with simple, affordable custom imprinted items that speak for themselves?
4AllPromos works to reach its customer's in a variety of ways including direct mail, e-mail blasts, social media and white papers. These various avenues allow the company to reach out to a wide customer base including large companies, small-business owners, non-profits and individuals. It's important for companies to maintain strong, diverse communication strategies especially if catering to large or niche markets.
Whether it's banned words, banned attitudes or banned business practices it's time to decide what can stay and what can go in 2013. 4AllPromos is a leading online marketer of custom imprinted and promotional products. For more information on how 4AllPromos can help businesses grow in 2013 visit http://www.4allpromos.com