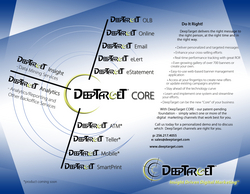 "We believe DeepTarget OLB is a unique and competitive product that will help our clients use online banking as a successful and cost-effective marketing channel". - Scott Burwell, solution manager for Symitar
Huntsville, AL (PRWEB) July 27, 2010
DeepTarget Inc. (http://www.deeptarget.com) today announced that Jack Henry & Associates (http://www.jackhenry.com) will market DeepTarget OLB to the credits unions automated by the Episys® core processing system and the NetTeller MemberConnect™ online banking solution provided by its Symitar™ division.
DeepTarget OLB is a secure, hosted, electronic banner messaging solution that presents highly targeted and personalized offers to individual accountholders through financial institutions' online banking sites. The highly targeted messages and accountholder communications are based on intelligent rules and relevant product offers, and can be used to generate targeted e-mail campaigns. DeepTarget OLB consistently generates an exceptional return on investment (ROI) which is attributed to the relevance of the marketing messages and the increased likelihood accountholders will respond to promotional campaigns and take advantage of the offers.
"We believe DeepTarget OLB is a unique and competitive product that will help our clients use online banking as a successful and cost-effective marketing channel. Considering that DeepTarget OLB is already generating tangible results for a number of Symitar clients, we expect formalizing this partnership will accelerate the use of this product throughout our client base, and provide value for more of our clients," said Scott Burwell, solutions manager for Symitar.
Preetha Pulusani, DeepTarget's CEO, said, "Establishing a formal business partnership with Jack Henry & Associates is an exciting milestone for our company. Jack Henry & Associates performed an extensive evaluation of our technology and company so we consider this partnership as an important endorsement of our value proposition and our commitment to continue building on DeepTarget's mission to provide innovative, market-leading digital marketing solutions for the financial services sector."
About Jack Henry & Associates, Inc.
Jack Henry & Associates, Inc. (Nasdaq: JKHY) is a leading provider of computer systems and ATM/debit card/ACH transaction processing services primarily for financial services organizations. Its technology solutions serve more than 11,800 customers nationwide, and are marketed and supported through four primary brands. Jack Henry Banking™ supports banks ranging from de novo to mid-tier institutions with information processing solutions. Symitar is the leading provider of information processing solutions for credit unions of all sizes. ProfitStars® provides highly specialized products and services that enable financial institutions of every asset size and charter, and diverse corporate entities to mitigate and control risks, optimize revenue and growth opportunities, and contain costs. iPay Technologies operates as a leading electronic bill pay provider supporting more than 3,600 banks and credit unions with turnkey, highly configurable retail and small business electronic payment platforms. Additional information is available at http://www.jackhenry.com.
About DeepTarget Inc.
DeepTarget Inc. is an insight driven digital marketing company whose software is rapidly redefining targeted marketing. Through the use of DeepTarget marketing technology for online and other digital media, DeepTarget is able to provide comprehensive messaging solutions for businesses of varying sizes and in diverse industries. With anticipated significant growth in the online advertising and digital media industries, DeepTarget is uniquely positioned for sustained success. For more information, visit http://www.DeepTarget.com.
###