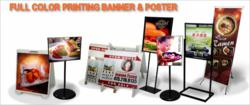 Banner Shop understands that visual displays and signs are vital to your business
San Francisco, CA (Vocus/PRWEB) June 04, 2011
Banner Shop in San Francisco is offering discounts on every order of text banner printing. The discount increases as customers spend more money with Banner Shop, so it is a great time to create quality signage and other printings at a much cheaper price.
"Banner Shop understands that visual displays and signs are vital to your business," said Jeff Guan, owner of Banner Shop. "We can help you choose the most suitable format for your needs."
With an order of $300, customers will receive a five percent discount. From there it grows to an eight percent discount for an order of $500, 10 percent on $1,200 and 25 percent on $5,500. Additionally, Banner Shop will offer 20 percent off for students and up to four free punch holes. They can also purchase a 2' x 3' banner for only $18. These promotions are not valid with other special offers, promotions or discount items.
Customers can provide their designs and Banner Shop will create the banners. With its affordable and quality printing media services, Banner Shop is a one-stop solution for customer's printing needs.
"We digitally print high quality, high resolution full color banners at 720 x 720 dpi on indoor/outdoor vinyl material," said Guan. "Our products are made in the United States and we guarantee three years of water resistant and UV resistant prints."
For more information, call 415-418-7807 or visit http://www.bannershop-sanfrancisco.com.
About Banner Shop
Banner Shop is a one-stop solution for signage and print needs in the Bay Area, including San Francisco, San Jose and Oakland. From vinyl banner printing, outdoor sign displays to expandable and retractable banner stand, we produce quality media at affordable prices.
Since 1993, Banner Shop of San Francisco has been producing high-quality signage and other print media for Bay Area businesses. With an in-house design team, digital printing, and installation included with orders, they provide a fast turnaround time for any vinyl banner printing, stands and large photo printing.
###