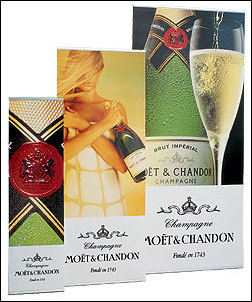 The worldwide banner stand industry is booming. Both indoors and out door banners are in great demand especially in the advertising world. A well-executed banner arranged in an attractive and interesting way, whether in a trade show exhibit, museum display, stage setting or retail store, is a sure way to drive the message home to the target audience
Stratford, CT (PRWEB) December 13, 2006
Bjorn G. Sao, Global Sales and Marketing Director and CEO of Expand International of America stated "Expand International could not be more pleased with the growth of the banner stand in use in marketing, advertising, and as a method of communicating an idea or a product to any audience, we have a saying that a picture is worth a 1000 words and the Expand retractable banner stand was made for that picture". Expand International has sold over one million display units since Expand invented the retractable banner stand 10 years ago this coming March.
The retractable banner stand is a very unique product and with the advanced technology Expand has with quick cartridge system we feel very fortunate as a company to be the leader in the pop up display market today.
Expand International has over 40 years in the trade show, POP display and and product marketing with the use of the Expand brand. The Banner stand industry is growing and more companies are using the Expand banner stand in their marketing departments, HR departments, Advertising departments and the banner stand we make now are for indoors and outdoor use.
Expand International believes that Design interacts with function and an attractive design can emphasize your message. Your company puts a lot of effort into creating a professional image for marketing. When showing your image, you should feel confident and proud of how it is displayed. Expand designs our products to interact with your image without taking over. The Expand line of Banner stands are being used by some of the leading Haute Couture houses from New York to Paris and used as displays in many of the leading department stores worldwide.
Expand's California account manager Barbara Carlsen stated she has customers who are using banner stands in outdoor events and on the beach, at Golf resorts, in malls and many other venues where thousands of people gather at one time. " It has been interesting watching the way Expand's products are being used by the customer. Expand sells to distributors who in turn sell to the consumer so many times we just do not know where our banner stands or portable display units are being used. When you see them in use and what they are advertising it's pretty amazing. I have seen our banner stands at the Carlsbad triathlon, Glam Com in Los Angles, and the SEMA and LA car shows".
Expand's banner stands, pop displays, retractable banner stands, and now the new out door banner stand are being used by companies marketing to a very wide array of consumers.
Banner stands or what are referred to as retractable banner stands, roll ups, pull ups and banner stand displays all do one thing and that is to show a picture, of a product or service. Expand believes that their display units are just better than others and that is why they have sold over 1 million displays.Expand International return rate is very small and with a limited life time warranty on the hardware Expand better make the best modular portable display units. These banner stands are made to last and change out the graphics when necessary as your products or message changes.
These are not disposable banner stands or limited use banner stands and Expand International will be entering a new year this 2007 where we believe we must let the consumer know who we are, what our products do, how they are made and why if you are serious about your business you should be using our retractable banner stands or pop displays. The expand line has been built through Swedish engineering and design and has employed some of the best account managers worldwide from a very diverse background but with one common thread. They all wanted to sell the best according to Expand International. "The worldwide banner stand industry is booming. Both indoors and out door banners are in great demand especially in the advertising world. A well-executed banner arranged in an attractive and interesting way, whether in a trade show exhibit, museum display, stage setting or retail store, is a sure way to drive the message home to the target audience".
Expand should be your choice in banner stands, pop displays and retractable out door banner stands. It does not matter if you are selling FJ Cruiser tire cover or a Paris Hilton dress; we have a banner stand that will make your message or product be seen and remembered. With over a million display units in the market Expand International is helping bring your products to the world.
###