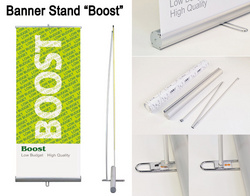 Glendale, California (Vocus) June 1, 2010
Digital Pre-Press Services, Inc. (DPS) now offers a solution for businesses in need of larger quantities of banner stands but on a tight budget. The Boost, DPS's newest economically priced banner stand has a lot to offer businesses looking in a lower price range.
The Boost is classified as a roll up banner stand and comes complete with a hard, sturdy, cardboard tubing to place the stand in when not in use. The Boost roll up banner stand differs from most economical varieties because it is made of quality materials and designed to get the most stability in the way it is constructed.
The Boost banner stand has a steel foot that keeps it rooted and locks in a pole that continues upright to keep the banner straight and in place. This solid construction offers limitless opportunities to businesses whether they are in need of banners at multiple trade shows, at retail locations and more. With the low price point, The Boost banner stand can be utilized for advertising campaigns. Advertisers will be able to get the most for their money and advertise in numerous locations with this model.
DPSBanners.com is dedicated to bringing businesses and organizations the best in banners and banner stands at affordable prices. Those interested in The Boost banner stand can visit DPSbanners.com for more detailed information. Digital Pre-Press Services, Inc. also offers other discounts such as free shipping on order over $150.00 as well as larger quantity discounts. If you are a business in need of bulk banner stand purchasing, contact DPSbanners.com directly.
For additional information and details on specific selections, please visit http://www.dpsbanners.com.
About Digital Pre-Press Services, Inc.:
Founded in 1996, Digital Pre-Press Services is visible online at DPSBanners.com. The company, located in Glendale, California, provides simple, affordable and professionally designed banners that can be personalized and customized exclusively online. Through the site, DPS has a wide array of products including banner stands, window clings, car magnets, retractable banner stands, sidewalk signs, pre-designed banners and more.
Contact:
Digital Pre-Press Services, Inc.
Toll Free (888) 790-2665
Local (818) 240-2004
Fax (818) 240-3456
http://www.dpsbanners.com
###