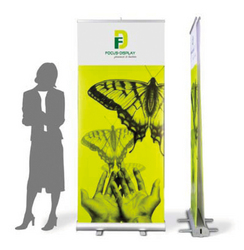 DPSBanners.com offers a large selection of banner stands in many styles, brands and price ranges.
Glendale, Calif. (PRWEB) February 23, 2010
Digital Pre-Press Services, Inc. (DPSBanners.com) is proud to announce a full line of banner stands are available to all professionals and organizations through their online website. Creating a fast, efficient and secure way to purchase banner stands online including retractable, roll up, X banner stands and L banner stands as well as those that are portable is just one way that Digital Pre-Press Services, Inc. is providing quality products and customer service.
Retractable banner stands and roll up banner stands come in a wide range of sizes, shapes and materials. DPSBanners.com offers full color printed graphics on a vinyl banner as well as other types of durable and non curl material which is installed, delivered and ready to go. Each retractable banner stand comes with its own carrying case which makes transporting banner stands easier when at an exhibit, trade show or other event. Double sided banner stand displays are also available from a number of different brands to ensure each customer gets the perfect banner stand for their needs.
Trade show exhibits and businesses looking for flexibility in displaying options will note that the Banner Bug banner stands offer a large display range rather than locked into one size. Due to the highly durable structure and portability of the Banner Bug banner stands, DPSBanners.com has placed a large variety on the website for professionals to choose from. The Banner Bug banner stands, like all banner stands that DPS offers are available for any budget range.
L banner stands are another affordable option available on the website. The L banner stands provide clean displays with minimal investment both in time and in money for the setup. Another great aspect L banner stands have is the fact that they can be reused with different graphics by simply switching out the vinyl banner and replacing it with another within minutes.
With the increasing demand for banner stands, offering an easy portable sign display, Digital Pre-Press Services, Inc. has focused on meeting the needs of today's trade show owners, retail businesses, special events planners and all those who are looking to market or inform a crowd. When there is no room for hanging a banner or it is just simply not visible to a targeted audience, banner stands put a message to the forefront and gains exposure.
Getting affordable banner stands is essential for those businesses looking to market on a budget. Having a large selection to choose from is just as important. Digital Pre-Press Services, Inc. has listened to the customer and has melded the needs for banner stands with a price point they can afford.
For additional information and details on specific selections, please visit http://www.dpsbanners.com.
About Digital Pre-Press Services, Inc.:
Founded in 1996, Digital Pre-Press Services is visible online at DPSBanners.com. The company, located in Glendale, California, provides simple, affordable and professionally designed banners that can be personalized and customized exclusively online. Through the site, DPS has a wide array of products including banner stands, custom banner printing, retractable banner stands, sidewalk signs, pre-designed banners, window clings, car magnets, and more.
###