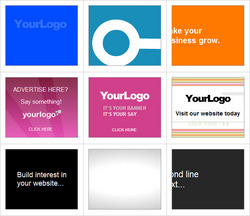 professionally designed banners... which can literally be created in less than 5 minutes by a non-technical person
(PRWEB) September 30, 2010
Online advertising has just got much easier. Simply.com has launched an innovative banner advertising solution for website owners. With point and click functionality a person without much technical knowledge can design a stunning banner ad and publish it on a vast content network of over 9000 quality controlled publishers.
The free online tools allow customers to create their own professional looking display ads by choosing from 9 different flash templates. The customer can first choose the design of their ad, and then add their own logo and wording before putting the campaign live. This means customers will not need to pay a separate design agency to design a set of banners. Simply delivers over 190 billion impressions globally every month, and serves nearly half a million companies.
The online advertising agency has made it possible for website owners and businesses of any size to easily set up banner advertising campaigns themselves, but unlike other major advertising platforms, it offers its customers help and support in setting up, and managing their ad campaigns, in the true sense of being an agency.
Setting up a display ad campaign is then just a simple 3-step process. In the first step you create a campaign, specify the date it should start, select the countries you want to target, and set your budget. In the second step you assign a set of banners which you have previously created, or else create a new set using the creative banner ads tool. The third step is confirmation and payment.
Customers have the flexibility to also add images and change the font colours and size, so resulting in a unique banner which really looks professionally designed, and can literally be created in less than 5 minutes by a non-technical person. The tool then saves the ad in the various industry standard formats for later use.
For those who don't have much experience with online advertising, Simply.com provides the benefits of being low cost, with no contracts, no minimum spend, and with real-time reporting but without the steep learning curve associated with other major ad networks because they have invested a lot in providing a user-friendly interface.
It is ideal for individuals, marketing execs, and business owners who don't have the time to learn the details of how to properly optimize a pay-per-click campaign on Google or Yahoo, but who want to use text or banner advertising to market their products or services.
###