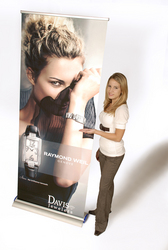 Lorton, VA (PRWEB) December 20, 2008
Retractable banner stands are one of the most reliable and simplest modes of promoting endorsing things via advertising. These banners are also called as the roll up banners since one can roll it as well as fold it up to take away after your purpose or mission gets accomplished.
Simple to use, the retractable banner stands work like window blinds, just slide up the graphic over the pole and lock it. These are ideal for the trade shows, POP displays, HR departments and any events. Since the printed graphic gets stored inside the base, assembling as well as reassembling is effortless and takes less time. These banners strands take less then five minutes to set up.
ONE YEAR WARRANTY, Capital Exhibits is the only company that offers one year warranty on all banner stands. Now, with our new retractable banner stands with the improved and strong mechanism inside the base, we are looking forward to produce and deliver them to advertising and trade show marketing departments in the United States and Canada.
When it comes to exhibition systems Capital Exhibits can cater for everyone, ranging from entry retractable banner stands and level starter packs through to large SPACE-YC-L5B2 banner stands.
Capital Exhibits can provide their own creative graphic design and artwork team available for those who do not have their own design facilities available. Alternatively you can provide the artwork yourself.
When a huge volume of target audience needs to be attracted in places like trade shows
and exhibitions, the retractable banner stands are the perfect solution. A different type of print medium can be used as per the requirement.
Banner Stands are universal in popularity because they can be placed almost any where. Trades shows, car dealerships, lobbies, offices, factory floors are just some of the places they can be used - and that is not when they are being used at sales meetings, conference centers, meeting rooms, conventions or at customers presentations.
While branding may seem complicated it basically boils down to how do you want people to see your company when they are looking for a product or service. With our new retractable banner stands you can achieve your company goals. Marketers have found them to be economical to print, roll up into compact packages that are lightweight, durable and easy to transport.
###