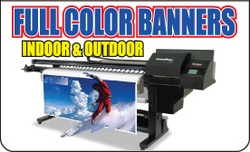 Banner printing is easy and can be accomplished in two simple steps
Glendale, California (PRWEB) March 8, 2010
Getting the most out of an advertising campaign is something Digital Pre-Press Services recognizes. This is why DPS has streamlined their banner printing services to include an easy and very convenient way of providing businesses banners that are eye catching and professional.
Banner printing is easy and can be accomplished in two simple steps. The first step is to select the product and choose from any options that might be available. Clients can do this by selecting from the drop down bars, clicking the "Add to Cart" button and completing checkout by entering all applicable information. The next step in the banner printing service involves uploading the image that will be included on the banner. After that, DPS completes the banner printing and ships it in a secure box with cushioning right to the clients location.
Clients prefer DPS banner printing services due to the high quality and professionalism shown throughout the years in business and in experience. DPS offers their clients many options and top notch service from the beginning of the order, all the way through post-delivery customer service. Fast turnaround on a banner printing order is also an expectation that Digital Pre-Press Services holds in high regard.
Moreover, a variety of shipping options through UPS are available to ensure a client receives packages on time. Once an order is received, the client will be able to check the order status and tracking information of their banner printing order directly online through the DPS site.
Clients can also receive custom banner printing as well which includes an endless array of choices. DPS professionals will work with each client to ensure they are getting exactly what they need. Let professionals with years of experience help you focus on getting the most out of your custom banner printing investment.
Those who order in larger quantities will also receive a discount on their purchase which adds even more value to utilizing a trusted name such as Digital Pre-Press Services. Quantity discounts can be a great aid for a company looking to impact a market through banner advertising because it frees up extra funds to promote in an additional way. For even more savings on banner printing, visit DPSBanners.com and click on the Monthly Specials tab under the main Support section.
Choosing Digital Pre-Press Services for banner printing and custom banner printing needs provides clients a fast, convenient, professional and money saving experience that will help a business gain maximum exposure.
For additional information and details on specific selections, please visit http://www.dpsbanners.com.
About Digital Pre-Press Services, Inc.:
Founded in 1996, Digital Pre-Press Services is visible online at DPSBanners.com. The company, located in Glendale, California, provides simple, affordable and professionally designed banners that can be personalized and customized exclusively online. Through the site, DPS has a wide array of products including banner stands, window clings, car magnets, retractable banner stands, sidewalk signs, pre-designed banners and more.
# # #