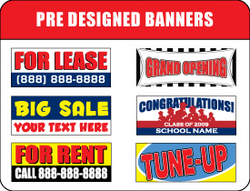 Glendale, California (Vocus) April 1, 2010
Digital Pre-Press Services (DPS) provides services that cater to the business community with regards to effective advertising needs. Many business needs for promotional advertising materials can be met with pre-designed banners which DPS has marked down this month starting at a low $44.00.
Pre-designed banners are banner sign design templates that have already been professionally created. This means the work is done and businesses looking for banner printing can easily obtain extraordinary banners without going through the design process and benefit from a very quick turnaround time; usually averaging only one day's time.
The selection for pre-designed banners is huge! Clients will be able to select from thousands of free templates that have been professionally designed. The designs on the templates have been constructed so that the message is clear, the banner colors and images are eye-catching and the time to receive these pre-designed banners is extremely minimal.
DPS also has a program where schools, organizations or event coordinators can set up a special account where they can earn referrals for a specific pre-designed banner purchase. For instance, a school could choose a pre-designed banner template with customization of their graduating class and refer students, teacher and family members to the DPSbanners.com site for ordering. Not only does the school not have to keep stock on hand, they earn commission off the sale as well. To set up an affiliate account, please visit the site and click "Affiliates" under the "Client Area" drop down menu.
Bulk purchases are also available for those companies that are looking to purchase our month's special at an even lower rate. Contact us for further pricing on larger orders. Pre-designed tax banners as well as holiday sale banners are at a deep discount and pose as a great opportunity to stock up and save. Holiday sales such as Christmas, Halloween and Valentine sales come quickly. DPS is offering a way to prepare ahead of time at a much lower cost. Other pre-designed banners on sale this month include blow-out sale banners, grand opening, promotional sales and more.
Promotional advertising can get costly and pre-designed banners speak directly to those businesses that are looking to get the most out of their advertising materials. Not only do promotional banners bring in customers but they also prove to be a business investment.
DPS is proud to be a company that can deliver such a large volume of choices in pre-designed banners and more while still maintaining a solid focus on customer service and detail from which the company has been built upon.
For additional information and details on specific selections, please visit http://www.dpsbanners.com.
About Digital Pre-Press Services, Inc.:
Founded in 1996, Digital Pre-Press Services is visible online at DPSBanners.com. The company, located in Glendale, California, provides simple, affordable and professionally designed banners that can be personalized and customized exclusively online. Through the site, DPS has a wide array of products including banner stands, window clings, car magnets, retractable banner stands, sidewalk signs, pre-designed banners and more.
Contact:
Digital Pre-Press Services, Inc.
Toll Free (888) 790-2665
Local (818) 240-2004
Fax (818) 240-3456
http://www.dpsbanners.com
###