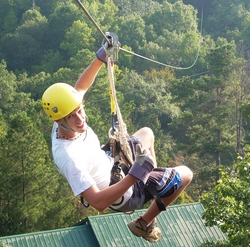 Our eco canopy tour is something you can't find anywhere outside of Central America. When you finish, you'll know you've accomplished something. Are you ready?
Whitesburg, Ga. (Vocus) July 21, 2010
More than 10 years ago, The Lodges at Historic Banning Mills introduced zip lines and canopy tours thought only to exist in Central and South America. In the last decade, this outdoor adventure paradise has consistently upgraded and advanced its eco canopy tour to become the nation's best.
Summer 2010 has been no different.
Three significant summer upgrades have furthered Banning Mills' leadership of an industry once dominated by rickety roller coasters.
Now introducing:

Zip Line "Twins": Headlined by the completion of the 1,500 ft. "I'm a Big Daddy, Too," or simply "IB2," four of 20 zip lines are now accompanied by parallel lines running next to them. For the first time ever, thrill-seekers can fly more than 45 mph simultaneously with friends or family.
Sky Trek bridge: Like a scene straight out of Indiana Jones, this 600 ft. long bridge hangs 18 stories above rushing Snake Creek and would drop even Steven Spielberg's jaw.
Terminator Corner: Not for the faint of heart, this high adventure course challenges visitors to navigate an onslaught of all-natural obstacles. From swinging planks to islands in the sky, vine swings to oddly-shaped bridges, it's not if you'll fall; it's how many times.
"Our eco canopy tour is something you can't find anywhere outside of Central America," says Mike Holder, owner. "When you finish, you'll know you've accomplished something. Are you ready?"
Located less than an hour west of Atlanta's Hartsfield Airport, Banning Mills is one of America's most elaborate and physically intense canopy tours – and the nation's most overlooked adventure. Banning Mills welcomes thrill-seekers, families, nature lovers, sportsmen, couples and groups alike. The range of activities offered by founders Mike and Donna Holder is unmatched.
With almost five miles of canopy walk and zip line tours, you can experience up to 20 zip lines and 37 tree walk bridges, push yourself to navigate a challenging low and high ropes course and experience an unbelievable list of activities that make Georgia's most well-kept secret a must-visit destination.
In addition to the nation's longest zip line eco-canopy tour, Banning Mills offers visitors:
Ropes course and Zip line tours inspected by the ACCT (Association of Challenge Course Technology) and Professional Ropes Course Association (PRCA) vendors;
Corporate meeting center;
Corporate team building courses;
Horseback riding;
One-of-a-kind birds of prey nature show;
Kayaking on miles of crystal clear water;
Swimming in Olympic-size swimming pools;
Countless nature trails;
Miniature golf course;
On-site chefs;
Customized spa treatments and
Cozy lodging with plenty of space.
For more information on how to experience Banning Mills, please visit http://www.historicbanningmills.com or call 770.834.9149.
About The Lodges at Historic Banning Mills
The Lodges at Historic Banning Mills is a 501c3 Conservation Center and rests among 1,200 beautifully preserved wooded acres overlooking the scenic and historic Snake Creek Gorge in Whitesburg, Georgia – a mere 45-minute drive west of Atlanta. Offering thrill seekers, nature enthusiasts, couples and groups of all sizes an experience of a lifetime through its unmatched zip line and eco canopy tours, Banning Mills boasts year-round outdoor adventure in addition to a scenic environment perfect for romantic getaways, family outings, church retreats and other group events.
###