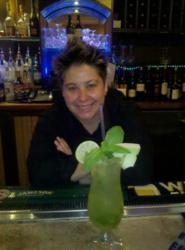 Delicious food, awesome atmosphere, they had a belly dancer the night we went, and nice staff. My favorite was the saffron/pistachio ice cream for dessert
Cupertino, CA (PRWEB) November 01, 2011
Arya Global Cuisine, a San Jose Middle Eastern Restaurant announces they will be serving specialty mojitos during happy hour from 4 pm to 7 pm daily. The wonderfully flavored mojitos are made with fresh fruits like pineapple, watermelon, raspberry, strawberry and melon. Fresh pomegranate mojitos are also available during the fall season.
Arya Global Cuisine Restaurant offers a fusion of Persian and Italian flavors with dishes like pomegranate pistachio meatballs simmered in a special pinot noir molasses sauce and Shishlik, lamb chops covered with saffron and herb seasoning, grilled to perfection and served with a side of basmati rice. Executive chef Mike Hashemi brought the Italian influence to the restaurant and created dishes that can be considered the best of both worlds. Live music and belly dancing complements the dining experience on weekends starting at 8 pm, with Italian music and jazz on Fridays and Persian and Mediterranean on Saturdays. Belly dancing starts at 8:30 pm.
"Delicious food, awesome atmosphere, they had a belly dancer the night we went, and nice staff. My favorite was the saffron/pistachio ice cream for dessert," says Danvi P. of San Jose, a satisfied customer of Arya.
For more information on Arya Global Cuisine, call (408) 996-9606 or visit them online at http://www.aryarestaurant-sanjose.com. Arya Global Cuisine is located at 19930 Stevens Creek Blvd., Cupertino, CA 95014.
About Arya Global Cuisine
Established in 1990, Arya is a dream come true for husband and wife restaurateurs Mike and Fera Hashemi. The restaurant's goal is to introduce Persian food, culture and art; then add their own Italian touches to every detail. Arya offers a variety of vegetable entrées and kebabs in their Persian menu and more than 20 entrées from pastas to authentic chicken, seafood and meat dishes in their Italian menu. With banquet rooms that can accommodate up to 300 guests, Arya also caters to private events and parties.
###