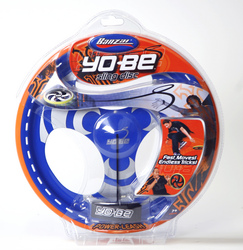 "Perhaps in some special way, Mr. Morrison has passed the torch and it is now BANZAI's responsibility to deliver the next generation action toy to consumers worldwide."
LOS ANGELES, CA (PRWEB) February 26, 2010
Walter "Fred" Morrison, credited with inventing the frisbee, passed away February 9 at his home in Monroe, Utah from cancer at age 90. The beloved man brought memories to generations all over the world. ToyQuest will donate a portion of BANZAI YO-BE™ 2010 proceeds to the American Cancer Society in memory of Mr. Morrison's contributions to the toy industry.
This spring ToyQuest launched BANZAI YO-BE™, a stunning combination of the yo-yo and frisbee. YO-BE™, recently named Nuremburg 2010 toy of the year, represents the best of both classics and merges them into a new activity with the capability of becoming equally popular and timeless. In fact, early sales figures predict this could be the next hot outdoor toy.
"Mr. Morrison and his invention of the frisbee established an inspiring standard of excellence," said Peter Magalhaes, Vice President Business Development, ToyQuest. "Perhaps in some special way, Mr. Morrison has passed the torch and it is now BANZAI's responsibility to deliver the next generation action toy to consumers worldwide."
For more information on BANZAI YO-BE™, please visit http://www.yo-be.com.
About The American Cancer Society
The American Cancer Society combines an unyielding passion with nearly a century of experience to save lives and end suffering from cancer. As a global grassroots force of more than three million volunteers, we fight for every birthday threatened by every cancer in every community. We save lives by helping people stay well by preventing cancer or detecting it early; helping people get well by being there for them during and after a cancer diagnosis; by finding cures through investment in groundbreaking discovery; and by fighting back by rallying lawmakers to pass laws to defeat cancer and by rallying communities worldwide to join the fight. As the nation's largest non-governmental investor in cancer research, contributing about $3.4 billion, we turn what we know about cancer into what we do. As a result, about 11 million people in America who have had cancer and countless more who have avoided it will be celebrating birthdays this year. To learn more about us or to get help, call us any time, day or night, at 1-800-227-2345 or visit cancer.org.
About ToyQuest
ToyQuest uses innovative technology to design products that are fun and safe for children and build on their natural creativity and athleticism. Under the BANZAI brand, ToyQuest is the industry leader in seasonal outdoor products due to their unique orange packaging, creative designs and innovation through a variety of formats including water blasters, pools, constant-air and flat water slides. ToyQuest designs, develops and markets high quality proprietary toys and toys licensed from popular intellectual properties including The Walt Disney Company, Mattel, Fisher-Price, Nickelodeon, Rawlings, National Football League, Warner Brothers, Sesame Street, Marvel and many others. ToyQuest's products have been seen on Good Morning America, Live with Regis and Kelly, The Late Show with David Letterman, KTLA morning show, The Ellen Degeneres Show, The View, Soap Talk, and at all major retailers nationwide. For more information, visit http://www.toyquest.com.
###