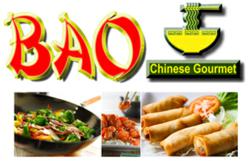 Bao Gourmet aims to treat every patron like Bao ('treasure' in Chinese).
Bartlett, IL (PRWEB) May 27, 2012
Bao Gourmet Restaurant is bringing fresh delicious food to Bartlett, IL. Grand Opening on Tuesday, 5/29/2012, 11 a.m. on the day after Memorial Day. (Add the event to your Google Calendar)
Bao Gourmet offers contemporary self-setting dine-in experience at an affordable price. Bao Gourmet serves predominately Chinese and Asian dishes. Every dish is cooked to order, and no MSG will be used. Customers may even specify how to prepare a dish to their liking.
For people on healthy diet, Bao Gourmet offers dishes from healthy menu that are all steamed without oil and with sauce containing little amount of salt.
Dine-in is open seating and self-service. Customers may walk in, place an order, and dine in freely during regular hours. Alternatively, customers may place an order for carry-out.
The catering menu is filled with over 50 varieties of entrées. Bao Gourmet always welcomes a small gathering or a large party, whether it is 5 people or 500 people.
In addition, Bao Gourmet takes orders by phone or online ordering. The quick and simple online system will save customers time by requiring no sign-up. Bao Gourmet will be open everyday to take orders starting at 11 a.m. (12 p.m. on Sundays) after Memorial Day.
The menu contains numerous categories such as appetizers, soups, and salads for customers to choose from.
Lunch from Bao Gourmet runs from 11 a.m. to 2:30 p.m. Every entrées comes with Fried or Steamed Rice and an Egg Roll.
Also, kids get a free small drink with Chicken Lo Mein, Sweet and Sour Chicken, or Chicken Fried Rice.