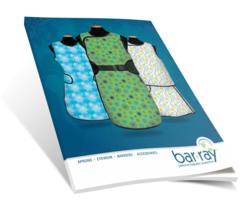 We believe that our social media presence, which is itself an innovation in the evolution of Bar-Ray Products, will allow us to develop an expanded level of communication with our employees, partners, customers and supporters. — Jeff Stein, CEO, Bar-Ray
Littlestown, Pa. (PRWEB) May 08, 2012
Bar-Ray Products (Bar-Ray), the world's largest manufacturer of radiation protective garments and vinyls, announces the launch of its social media presence through Facebook, Twitter and LinkedIn. This effort supports the company's growth by increasing its awareness, accessibility and brand recognition among social media users.
"We are excited about this opportunity to join the online community through these popular social media channels," said Jeff Stein, Chief Executive Officer for Bar-Ray. "Bar-Ray has been consistently recognized for our innovation, namely our innovative personal radiation protection products. We believe that our social media presence, which is itself an innovation in the evolution of Bar-Ray Products, will allow us to develop an expanded level of communication with our employees, partners, customers and supporters."
The Bar-Ray Facebook page features an eye-catching cover photo that introduces Facebook users to the company's personal radiation protection products. The page also offers timely information about the latest product offerings from Bar-Ray and provides relevant links to research and material about developments in the fields of medical imaging and radiology.
Bar-Ray opened its Twitter account, @BarRayProducts, in March and has been using the popular social media platform to introduce the company's products and services to new partners and customers, provide information on current issues in the radiological field and share links to timely information from renowned national and worldwide authorities on radiation, such as the Society of Interventional Radiology, the International Atomic Energy Agency (IAEA) and the Radiological Society of North America (RSNA).
Bar-Ray's LinkedIn profile is a new forum that enables the company to establish business connections with its network of partners, customers and supporters, while offering career-related information about the company, including a current list of job openings.
All of Bar-Ray's social media efforts support the company's robust website, http://www.bar-ray.com, which was relaunched in the fourth quarter of 2011. From http://www.bar-ray.com, customers can browse Bar-Ray's full product inventory of aprons and wearables, apron accessories, patient and pediatric protection products, radiation protective eyewear, lead gloves and mittens, apron racks and hangers, x-ray accessories, barriers, shields and curtains. Individuals can also request product quotes or copies of the comprehensive Bar-Ray personal radiation protection products catalog directly through the website.
In addition to these features, the website also provides useful customer resources, including apron sizing charts, answers to frequently asked questions about Bar-Ray's products and related certificates, forms and instructions. These resources cover a printable apron ordering worksheet, apron care and glove sterilization instructions, and material safety statistics for Bar-Ray's Cost Cruncher, Prestige, Starlite and Truelite radiation protection material.
About Bar-Ray Products
Bar-Ray Products (Bar-Ray) is an ISO 9001, CE, and FDA registered company and the world's largest manufacturer of personal radiation protection products since 1930. The Bar-Ray product line consists of a full range of personal radiation protection garments, including standard weight, lightweight and lightweight lead-free radiation protection products, x-ray barriers, airport screening curtains, inspection products and much more. For more information about Bar-Ray and its products, call toll-free 800-359-6115 (717-359-9100 for international callers). E-mail info4barray(at)bar-ray(dot)com or visit http://www.bar-ray.com.
—30—