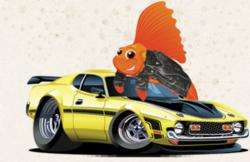 She strikes me as the kind of girl who doesn't need constant attention, who doesn't have the need for all eyes on her when she's out. I really dig that.
Los Angeles, CA (PRWEB) May 23, 2012
RoadFish.com men's lifestyle and finance magazine offered up congratulations to Israeli model Bar Refaeli who recently topped the charts of Maxim Magazine's "Hot 100." The 2012 "Hot 100," described by Maxim as "the definitive list of the world's most beautiful women," was the first ever listing of its kind that allowed readers to vote for which women they believed should be on the list. Millions of votes were tallied to construct the elite contents that cost some women a sexy slot on the exclusive list, and bumped others up to the top.
NY Magazine had a telephone interview with Refaeli after the announcement that she'd won the first-place slot of Maxim's "Hot 100" for 2012. Charlotte Cowles reported that Refaeli was cheerful and humble while answering questions regarding her new number-one-ranked hot woman in the world title and her new underwear line. Refaeli is quoted as saying, in response to the question does she ever get tired of being called sexy, "No! Not at all, are you kidding? There's a cover here, and a Sports Illustrated there, and there's a title, you know, somewhere. And I never get used to it, because when I wake up in the morning I put on my baggy jeans and my T-shirt, and I feel not even close to being sexy. So when they come to me with these titles I'm like, Wow, I didn't even know I'm sexy."
RoadFish.com was incredibly supportive of Refaeli's new title, and said that she deserved every bit of it. RoadFish.com's Senior staff writer is quoted as saying, "Of course Bar Refaeli deserves to be ranked number one because she's stunning, but I don't think that's the only reason. To me, she is incredibly humble and down-to-earth. I was reading an interview a few years ago where she told an Israeli magazine that she prefers to keep a low profile when she's out in public, at events and whatnot. She strikes me as the kind of girl who doesn't need constant attention, who doesn't have the need for all eyes on her when she's out. I really dig that."
26-year-old Bar Refaeli was born in Israel, and her mother, Tzipi Levine, was herself a successful Israeli model during the 1970s era. When Bar was 8-months-old, she was in a baby commercial, her first of several. In 2007, Bar became the first Israeli model to appear in the "Sports Illustrated Swimsuit Issue." By 2009, she had worked her way up to being the cover model for that year's Swimsuit Issue. She has also appeared in such publications as Maxim, ELLE in France, and GQ in Italy. She has been in several movies and television shows, and is currently working on a movie in Israel. She's set to star as the host and judge in a German television show about contestants who are competing against each other in modeling contests.
When asked in the NY Magazine interview whether she wears makeup everyday, the humble Refeali replied, "For a party I'll put on blush and mascara, but during the day I won't put on makeup. I'm really most comfortable in my baggy jeans and T-shirt. Of course, I like to dress up because I'm a girl, and sometimes I like to put on heels and an outfit to go out, but it's always a very simple, under-the-radar type of thing."
RoadFish.com sends out its congratulations to the model and makes the request that the model "never change." RoadFish.com's Senior staff writer is quoted as saying, "She has such an incredible attitude, so down-to-earth and not all hyped up on herself, and I hope that that never, ever changes. She seems very real, and very true to herself, and I am a big, big fan of that sort of personality. She is number one in my book!"
Maxim has been releasing the "Hot 100" list since 2000, an annual listing featuring the top 100 hottest and most beautiful women of the year. Eva Longoria is thus far the only woman to have won the number one slot twice, in back-to-back years 2005 and 2006. Eva Longoria is also the oldest winner thus far, at age 31 in 2006. In 2001 Jessica Alba took the number one slot when she was 20 years old, making her the youngest winner to date. Marisa Miller was ranked the number one hottest woman in 2008 after having never been on the list in previous years, which is the first and only time so far that a woman has debuted on the list and gone straight to number one. Rosie Huntington-Whiteley ranked number one last year, in 2011.
About RoadFish.com
RoadFish.com is an online men's lifestyle and finance magazine targeted toward men in their 30's and 40's that have already attained a moderate level of success in life, and are striving toward more. It goes over current events of interest to this group, such things as exciting adventures, consumer interests, and common US credit score issues, as well as ways to make more and save more money. It is a publication owned by Purpose Inc.