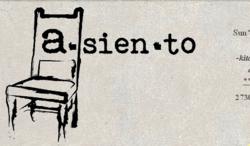 Come by to take a break from standing in the crowds
San Francisco, CA (PRWEB) May 25, 2012
As San Francisco celebrates Carnival in the Mission with colorful parades and festivities, Asiento is staying open all day on May 26 and May 27. Asiento, featuring the best brunch and bar serving tapas in San Francisco, will be open from 11 a.m. until 2 a.m. on Saturday and 11 a.m. until midnight on Sunday.
"Come by to take a break from standing in the crowds," Debi Cohn of Asiento said. "Enjoy a simple food menu on Saturday and a limited version of our brunch menu on Sunday. Throughout the weekend, the windows will be open, and the DJs will be spinning."
Asiento serves special menus and cocktails with friendly staff members who are always happy to assist. Guests will surely enjoy the chance to rest their feet.
"The most fun I had at Carnival in the Mission was a few blocks away at Asiento! Great cocktails, DJs and a fun crowd. And a place to sit when I needed it," one carnival partygoer said.
For more information about any of Asiento's product or services, call 415-766-0238, view the tapas bar on the Web at http://www.asientosf.com or visit 2730 21st St. in San Francisco.
About Asiento
A San Francisco bar serving tapas, Asiento, is a neighborhood bar located in San Francisco's Mission District. It is known for a welcoming vibe, happy hour specials, numerous board games and game nights. Top it off with an eclectic wine list and the best brunch, known as the Sunday Recovery Brunch, from 11 a.m. until 4 p.m. every Sunday. It offers a casual and relaxed environment where people can stop in for a drink and meet up with their neighbors or make new friends. The bar features San Francisco's finest local talent, ranging from the favorite neighborhood and surprise international DJs to local bands, each amplified by the bar's JK Sound system. Asiento is a 21 and over venue.