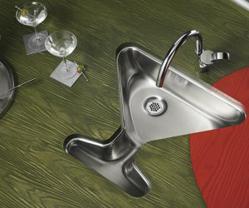 Bar sink is one of those little overlook-able things that can make a big difference in how easy and how comfortable it is to use a home bar.
(PRWEB) October 09, 2012
HomeThangs.com – the Home Improvement Super Store has made their goal to deliver the right product to the consumer, with that in mind, shopping and home design tips, as well as special product selections are being introduced.
When building a home bar, one of the biggest decisions to make is actually a fairly deceptive one – to install a bar sink or not. Depending on the location of the bar, and that location's access to plumbing, this can be a relatively simple job. But if not, is it really worth spending the extra money for a water supply and drain, or even worth altering the location of the planned project to get one. Bar sinks add important utility to a home bar – and can be pretty snazzy to look at, too. HomeThangs.com introduced a wide selection of bar sinks to choose from, along with a tip sheet on what difference having one really makes.
1. Access To Running Water
There are a plethora of reasons to want access to running water in a bar, from being able to rinse glasses or fruit, fill ice trays, wash hands or utensils etc. It'll save one not only having to run to the main kitchen to clean all the bar equipment, but also having to run off to rinse sticky mixers off the hands. Even the smallest bar sinks like the Cuisine bar sink from Herbeau, for example, is enough to connect a bar to some standard plumbing and get the job done without taking up much space at all.
2. Teeny Tiny Prep Station
The best thing about bar sinks is that many of them are spectacularly innovative in design. For example, the Fete Bar Sink from Kohler has an odd shape, which maximizes utility while minimizing its footprint. The sink itself is really small, just big enough to catch the water from the faucet without splashing. But the oblong, recessed side extension creates a petite, easy-to-clean prep station. Made of enameled cast iron, it's highly resistant to staining and scratching, so it can be used it as a mini cutting board for garnishes.
3. Bar Sinks Are Built Tough
Most bar sinks are built to withstand even the least able aspiring flair bartenders. The Silgrainit series of sinks from Blanco, for example, are designed to stand up against heat, cold, chipping, scratching, staining, and just about any and every other common sink malady.
4. Built In Drink Server
Smaller bar sinks can be used to chill a bottle or a can or two, but larger, trough style sinks like Chesapeake Trough Sink from Sierra Copper are the perfect, classy replacement for a big ice chest. The whole sink can be filled with ice, where cans and bottles can be stashed. The sink drains the water naturally, and can be refilled as often as needed. These are especially great for home bars with a nice TV setup, or those that are part of a larger entertainment area, so one can watch the game and grab a drink without having to lurk behind the bar. For a smaller round or semicircular bar, the Yukon Trough Copper Bar Sink by Sierra Copper is a perfect choice – it offers 180 degree drinks while taking up significantly less floor space than an average bar.
5. Bar Sinks Are Just Plain Fun
Even ignoring all the practical aspects of installing a bar sink, many of them come in fun, stylish designs that can help spruce up and customize any home bar design. For example, the Mystic Martini Bar Sink from Elkay, complete with a skewered-olive handle on the faucet is pretty eye-catching. Unique sinks like this add a little personal touch and can help turn a bar into a playful space that will be enjoyed for years to come.
Bar sink is one of those little overlook-able things that can make a big difference in how easy and how comfortable it is to use a bar.
HomeThangs.com is not only a home improvement superstore, it also provides expert design tips and a comprehensive shopping guide, taking the ideas from professional interior designers, and offering tips to the consumers on how to pick the products to best suit their needs.