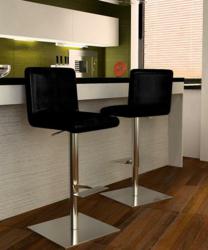 By incorporating bar stools into a new kitchen island, especially one with a built-in cooktop, groups can gather and chat right as dinner is being prepared.
(PRWEB) May 27, 2013
HomeThangs.com – the Online Home Improvement Store has made their goal to deliver the right product to the consumer. With that in mind, shopping and home design tips, as well as special product selections are being introduced.
Kitchens are larger and more open than ever before, with everything from more storage to more seating. But while many dream kitchens focus on features like sprawling kitchen islands, professional grade cooking appliances, and custom cabinetry, the most important feature in terms of entertaining is the seating. To that end, HomeThangs.com has introduced a guide to one of the most useful kitchen upgrades: bar stools.
1. Simple Bar With Stools
In the past, kitchens have been closed in, walled shut and blocked off from the rest of the home. But in recent years food preparation has become everything from a family affair to a stay-in date night. The most obvious sign of this shift is that kitchen trends are starting to favor a layout with at least one wall knocked out from the waist up, giving an uninterrupted view of the next room. This open design visually expands a kitchen, and adding simple seating in the form of a few bar stools on the other side is a great way to bring friends and family into the culinary action.
2. Kitchen Island Bar
In a slightly larger kitchen, kitchen islands are becoming all the rage – from small ones hardly more than a cart to full islands with built in prep sinks, butcher blocks, or even cooktops. By incorporating bar stools into a new kitchen island, especially one with a built-in cooktop, groups can gather and chat right as dinner is being prepared. For a smaller family, adding bar stools to a kitchen island can even eliminate the need for a full sized dining table, creating a more casual and intimate dining atmosphere.
3. Big Solutions For A Small Kitchen
The most elegant solutions for a small space are often the most simple and obvious ones. Even in a kitchen without enough space for a full sized kitchen island, a narrow shelf extending from the wall can add a not-insignificant amount of storage space. Better still, this sort of simple shelf can be built at just the right height to work at while leaving enough room to store a set of bar stools entirely underneath. This way, it can be used for seating when needed without taking up any extraneous floor space.
4. Easy Extra Seating
In fact, adding a small ledge to hide a pair of bar stools is a trick that works in much larger spaces, too. From kitchen islands of any size to straightforward home bars, extending the counter top not only makes for more available dining space, but also helps create a uniform, even look that keeps the bar stools from looking stranded. Where this is done best is where a protruding counter is dressed up as an architectural feature, either with decorative braces or with paneling that echoes the cabinetry in the rest of the kitchen.
5. Improved Entertaining
To maximize the number of guests that can be hosted in a small room, bar stools need not only be installed near a bar. Very small bistro tables or even a simple ledge installed around the perimeter of a room offers all the space needed for casual drinks and small plate dining. Dotting a large room with tall bar chairs can give a room a slinky, cocktail lounge style feel while seamlessly extending the entertaining space outside the kitchen.
6. Cafe Style Breakfast Nook
Bar stools can also be used to create a compact breakfast nook – not the big, bulky additions of booth style seating, but something a little more European. Simply place a bar stool or two and bistro table either by a window or in a recessed space. This configuration takes up almost no space, but creates a separate dining space reminiscent of a French café – perfect for enjoying a nice cup of coffee without having to set a table.
To find out more ways to improve a space with bar stools, read the full article here.
HomeThangs.com is not only a home improvement superstore, it also provides expert design tips and a comprehensive shopping guide, taking the ideas from professional interior designers, and offering tips to the consumers on how to pick the products to best suit their needs.