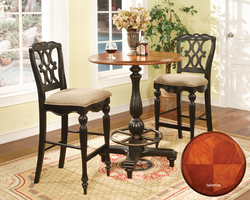 NFL ticket prices climbed 3.9 percent to an average of $74.99 for the 2009 season.
Houston, TX (PRWEB) September 23, 2009
Home and Bedroom has added Powell Furniture Bar Stools and Daybeds with a Post-Season Sale. So as the NFL season kicks off football fans can gather their friends around and cheer on their favorite teams. And chances are that once the party is over, they will fall asleep in their beds while glued to the game's recapped highlights. These scenes will repeat themselves throughout the new year in homes across the country, and Home and Bedroom Furniture is making them more comfortable and affordable.
According to the results of a Team Marketing Report survey released earlier this month, "NFL ticket prices climbed 3.9 percent to an average of $74.99 for the 2009 season." That figure varies by team, so Dallas Cowboy fansmay have to shell out an average of $159.65 to see their team play live, and a premium ticket to a New England Patriots home game will cost a whopping $566.67. It seems the National Football League forgot there is a recession going on. It's no wonder then that more fans are opting to enjoy their favorite sport in front of the television set in their own homes.
Based in California, Powell Furniture designs and distributes bar stools, metal beds, daybeds and childrens furniture across all style categories. Established in 1968, the company has grown to become one of the most recognized name in the furniture industry. For 40 years it has helped to transform any house into a football haven.
Home and Bedroom helps to makes this idyllic fantasy possible at a price tag that is less than a couple of premium game tickets with its new line of metal beds, bar stools and daybeds from Powell. And to better help football fans ready their homes for the NFL season, the company is having a Post-Season Sale through January 31. This special offers game fans an extra 10 percent reduction off Home and Bedroom's already discounted prices. To get this discount buyers only need to enter the code "recession-buster" into the coupon box at the bottom of every checkout page from now until the end of October.
Budget-conscious football fanatics need not miss out on the tailgate-party experience. Instead of freezing their tushies off in an arena parking lot and paying $6 a pop for a cup of beer, they can gather sports-loving friends in their game room or den, park on some comfy bar stools in front of the big screen and raise a few glasses of store-bought brew to toast the kickoff.
TV-watching football fanatics who would like to make game day more homey and enjoyable for themselves and their guests can check out Football Viewing Furnishings from Powell Furniture as well as Pastel Furniture and Hillsdale Furniture at http://www.home-and-bedroom.com.
###