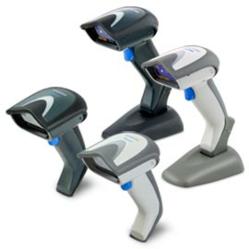 Great reading performance, intuitive ease-of-use and many other user benefits are what make the Gryphon product series the peoples' choice.
Eugene, OR (PRWEB) April 29, 2011
Today, more and more industries are adopting the use of two-dimensional or 2D bar codes. The benefits of two-dimensional bar codes include the ability to incorporate more information in the code, offer higher levels of security and usually produce fewer printing issues. New user-interactive applications such as mobile marketing, mobile ticketing, electronic coupons and loyalty clubs, typically feature 2D Quick Response or QR codes, which requires a 2D bar code scanner for reading.
Datalogic Scanning, with its decades of experience in the design and manufacturing of scanning devices, extends its heritage in imaging technology with the introduction of the Gryphon™ 4400 series of 2D area imagers. New to the Gryphon 4400 series is the GD4400 corded desktop model, which is ideally suited for stationary applications in retail, manufacturing, and healthcare. Additionally, the GD4400-B "All-in-One" reader with its unique stand design is perfect for retail point-of-sale environments where the need for both handheld and presentation style reading is required.
Based on state-of-the-art area imaging technology, the Gryphon 4400 readers go beyond the typical performance specifications by incorporating features that simplify everyday scanning activities.
Datalogic's exclusive Motionix™ motion-sensing technology intuitively synchronizes the scanner with the user's actions allowing seamless transitions between handheld and hands-free style reading. When the device is in your hand, it's in handheld mode; when the device is still, it's in presentation mode. It's that simple.
All Gryphon 4400 series scanners can decode virtually any 1D and 2D bar code symbology and can read codes from LCD monitors, cell phones, smartphones and other mobile devices. The deep-red illumination of the 4400 series eliminates the irritating "flicker effect" found in competing products, allowing for comfortable all-day usage. The center-cross aimer with four corner dots provides a clear indication of the reading area, making targeting codes quick and easy. Datalogic's patented Green Spot technology provides additional visual good-read confirmation which is a necessity in noisy environments or when silent scanning is desired. Datalogic Aladdin™ configuration software and Remote Host Management provide simple tools to manage deployed devices and keep them synchronized across an enterprise.
"The new Gryphon 4400 series of readers are evidence of Datalogic's commitment to designing superior products with people in mind," stated Giulio Berzuini, Datalogic Scanning's General Manager of Handheld Scanning, "Great reading performance, intuitive ease-of-use and many other user benefits are what make the Gryphon product series the peoples' choice."
These newest members share the same ergonomic enclosures and accessories within the Gryphon product family, making for easy compatibility into existing systems. The Gryphon 4400 series will also feature a model with a Disinfectant-Ready enclosure for healthcare applications. The final cordless model featuring the Datalogic STAR Cordless System™ narrow band radio will soon be available to complete the Gryphon 4400 series of 2D area imagers and further establish the Gryphon™ line of products as the most complete and diverse 1D/2D suite of bar code readers available on the market.
About Datalogic Scanning
Datalogic Scanning is the worldwide leader in fixed position retail scanning offering both in-counter and on-counter point-of-sale scanners and the best known provider of handheld scanners in EMEA, with the most complete line of general purpose and ruggedized handheld scanners in the world.
A division of the Datalogic Group, Datalogic Scanning is headquartered in the US with a presence in over 120 countries. The company serves multiple industries throughout the retail supply chain and distribution channel as well as manufacturing, government, healthcare, banking and finance sectors.
Datalogic and the Datalogic logo are registered trademarks of Datalogic S.p.A. in many countries, including the U.S.A. and the E.U. Datalogic Aladdin and Datalogic STAR Cordless System are trademarks of Datalogic Group S.r.l. Gryphon and Motionix are trademarks of Datalogic Scanning, Inc.
For additional information about Datalogic Scanning product and services, please visit http://www.scanning.datalogic.com, email marketing.scanning(at)datalogic(dot)com, or call +1-800-695-5700 (toll-free in the USA only) or +1-541-683-5700.
CONTACT:
Debbie J. Gese
marketing.scanning(at)datalogic(dot)com
# # #