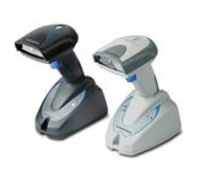 scan angle perfect for reading wider codes, and a patented
Mc Elhattan, PA (Vocus) February 13, 2010
Brodart Supplies & Furnishings, based in McElhattan, Pa., has just introduced two brand new Bar Code Scanners to its extensive collection of library circulation supplies.
Brodart boasts a complete offering of everything you would need to run an efficient library, including two new Datalogic scanners: the Gryphon 4130 scanner and the QuickScan 2130 Mobile Scanner. These highly innovative scanners allow users to scan items from further away with outstanding first pass read rates. The Gryphon 4130 scanner features a 42" scan angle perfect for reading wider codes, and a patented "Green Spot" for good read feedback. The QuickScan 2130 Mobile Scanner features cordless scanning up to a 40 foot range and averages 20,000 reads per charge and over 200 scans per second, with scan-while-charging capabilities. Both scanners support GS1 DataBar linear codes and read Codabar, Code 39, EAN/UPC, ISBN/ISNN, Code 93, Plessey, Teleplen, Code Delta, IBM, Code MSI, and more.
To take a look at Brodart's new Datalogic Bar Code Scanners.
ABOUT BRODART CO.
Since 1939, Schools and Libraries alike have turned to Brodart Supplies & Furnishings for everything to keep their libraries running smoothly. From book covers and book supports to kids wall murals, Brodart Supplies & Furnishings is a one stop shop for all your library supplies. From humble beginnings, Brodart has grown to become an international company, serving libraries from the Northwest Territories to the Pacific Rim, with facilities in the United States and Canada. Brodart truly has evolved into a full-service library supply company. For additional information about Brodart Supplies & Furnishings, please visit shopbrodart.com or brodart.ca for our Canadian users, or call 1.888.820.4377 in the United States or 1.800.265.8470 from Canada.
###