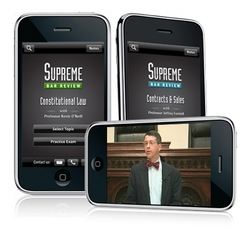 I'm able to watch lectures as I ride the bus to the library to study…practice questions are great too. – Recent iPhone user
Cleveland, OH (PRWEB) May 26, 2010
Supreme Bar Review, one of the most respected names in law school and bar exam preparation has announced the launch of a comprehensive series of iPhone applications to help law school graduates prepare for the Multistate Bar Exam (MBE). The series includes seven separate iPhone applications, each covering a subject tested on the MBE, including: Constitutional Law, Contracts & Sales, Criminal Law, Criminal Procedure, Evidence, Real Property, and Torts. Developed by iPhone training specialists, Netframes, each application can be purchased and downloaded directly from the Apple iTunes Store and installed on any iPhone, iPod Touch, or iPad.
Each application features a complete video lecture from a leading Supreme Bar Review professor, plus a complete set of MBE-style multiple-choice practice questions with detailed explanatory answers. Other features include: detailed description of topics tested on the MBE, access to any handouts mentioned in lectures, note-taking function within the app, search function, and e-mail and telephone support within the app.
Supreme Bar Review's iPhone apps are different from any other bar review applications currently on the market. While most bar review iPhone apps are limited to flash-cards, Supreme Bar Review's apps feature a complete video lecture, plus a full set of practice MBE-style questions with detailed explanatory answers. In addition, Supreme Bar Review's apps are the only ones that allow you to watch an entire lecture video on your mobile device without requiring an internet connection (Wi-Fi or 3G). Also, unlike other competing apps, you do NOT need to be enrolled in the full-service bar review course to activate it.
These iPhone apps are perfect for anyone preparing for the bar exam or law school final exams. These apps provide the same type of comprehensive lectures one would receive from a traditional bar review course, along with the same type of practice testing. However, unlike a traditional bar review course, which can cost thousands of dollars, these apps are priced affordably from $39.99 to $79.99 each. Plus, these apps let students go where other bar review apps cannot: whether on a train or plane, beachside or poolside – after initial download, the user can watch or listen to the entire lecture without the need for a WIFI or 3G connection, providing the freedom to study wherever and whenever one chooses.
To find these apps in the Apple iTunes Store, simply select the seven links below or type "Supreme Bar" in the search field.
Constitutional Law
Contracts & Sales
Criminal Law
Criminal Procedure
Evidence
Real Property
Torts
iPhone apps feature:

On-the-go video playback. No WIFI required after initial install for watching anywhere.
Interactive search to find lecture subjects.
Multiple choice quizzes with scoring for each subject.
Access to lecture notes
Email and telephone support.
Note taking
###