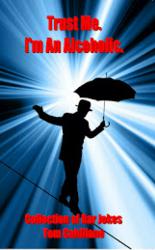 People just don't recognize the inseparable connection between Alcoholic Humor and the 12-step recovery process
Bloomfield Hills, Michigan (PRWEB) August 30, 2012
How many alcoholics does it take to change a light bulb? Just one - he holds the light bulb and the whole world revolves around him. That's the typical type of humor from Tom Cahillane's collection of bar jokes, 'Trust Me I'm An Alcoholic.' Cahillane is a recovering alcoholic, active in 12-step recovery with a delightful sense of humor.
Craig Jensen, PR Representative with publisher Diligent Management & Consulting Services, announced that book sales were slow when it was first released in November of 2011, but have steadily increased every month in 2012. Jensen attributes the increase in sales to its popularity in the 12-step community.
Richard Kramer writes in the forward: People just don't recognize the inseparable connection between Alcoholic Humor and the 12-step recovery process. In this collection of new and old jokes compiled by Tom Cahillane are to be found the raw materials of 12-step recovery. All of us who have had the honor of sharing alcoholic and drug jokes with Tommy over the years feel a part of this process. What some folks don't know is that the 12 step AA movement grew out of Bill Wilson's involvement with an earlier 6-step movement called "The Oxford Movement," founded by the controversial American churchman, Frank Buchman. At the time that Bill W was just another face in the growing number of alcoholics seeking Buchman's 6 step spiritual support in their fight against alcohol, Frank Buchman was introducing self-effacing humor into every 6 step meeting to get those to take themselves and their own struggles with a touch of humor. Out of humor comes the lift from the co-occurring depression that too often accompanies the life problems of an unmanageable alcoholic or drugging life. Tommy's zany collection of groaners and belly laugh addiction jokes are just what the Doctor ordered for anyone on the AA/NA side, the Alanon side, or any side of a life in a laughable age with very real, but equally zany problems.
Tom Cahillane says that his personal favorite from the collection is, Liquor is like love. The first kiss is magic. The second is great. The third is usual. After that you just take your clothes off.
Cahillane said his second choice would be, I used to do drugs in the 90's. I didn't care what the temperature was.
Mark Menestrina, MD, FASAM, commented on the book saying, "One of the symptoms of Recovery is the return of a sense of humor....thank you for helping us laugh again! "
Tom Kulesz, a notable, quotable, old-timer from Troy, Michigan writes, "There are twelve suggestions in the accepted 12-step program, but only one rule as stated in the "12 and 12!" This rule is known as "Rule 62" which simply states, "Don't take yourself too seriously!" When practiced, ones sense of humor returns!"
For more information or to order a copy visit Trust Me I'm An Alcoholic. It's also available at Amazon in soft cover and Kindle.
About the Author
Tom Cahillane is a recovering alcoholic and author of the hilarious new book, 'Trust Me I'm An Alcoholic,' a humorist look at addiction. He is active in 12-step programs and also serves on the board of directors for Substance Free Future Foundation, a Michigan 501 (c) 3 tax deductible organization. SFFF works to prevent substance abuse among young adults, through community based partnerships, education, and financial assistance.
About Diligent Management and Consulting Services
Established in 2008 Diligent Management and Consulting Services offers strategic organic search engine optimization campaigns for drug addiction treatment centers looking to grow their online presence. DMCS is a digital marketing agency specializing in helping drug and alcohol addiction treatment centers integrate and leverage marketing activity by way of the internet, call centers, and text marketing.
Based in Bloomfield Hills, Michigan, DMCS specializes in substance abuse marketing. They offer Social Media, SEO, Internet marketing services, link building campaigns, and text marketing. To learn more about DMCS, or to contact them for a free consultation for internet marketing solutions, visit Diligent Management & Consulting Services or call them at 248.962.3627.
###