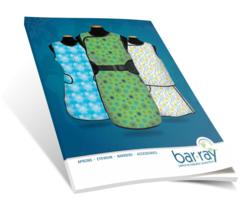 We continually strive to bring innovative personal radiation protection products to the market because we understand the importance of attention to detail and consistently delivering high quality products to our Bar-Ray customers. Jeff Stein, CEO, Bar-Ray
Littlestown, Pa. (PRWEB) April 17, 2012
Bar-Ray Products (Bar-Ray), the world's largest manufacturer of radiation protective garments and vinyls, today announced the release of its new 2012 personal radiation protection products catalog. Serving the medical and radiological industries, the catalog features more than 100 products including expanded fabric patterns for the company's personal radiation protection aprons and garments and new pediatric patient protection materials, including pediatric frontal and wrap around aprons. Bar-Ray has published its signature radiation protection products catalog since 1960.
"We're excited about adding to our already extensive product line with the inclusion of these new fabric patterns and pediatric patient protection aprons," said Jeff Stein, Chief Executive Officer for Bar-Ray. "Bar-Ray is committed to meeting our customers' needs across a range of diagnostic, medical and radiological settings. We continually strive to bring innovative personal radiation protection products to the market because we understand the importance of attention to detail and consistently delivering high quality products to our Bar-Ray customers."
Several highlights of the 2012 Bar-Ray catalog include:

An extensive fabric library and index contains samples of the hundreds of fabric designs available for radiation protection aprons and garments.
Sizing charts provide guidelines for measuring the body for aprons, vests, skirts and wrap around aprons.
Face shape recommendations are placed next to each protective eyewear product description, offering a highly visible way to match eyewear types to facial shapes.
Bar-Ray Exclusives: Hospital Logo Fabric and Cool Pack Insert
With hospital logo fabric, Bar-Ray has the ability to print hospital logos directly onto fabric for use on aprons, blankets, mobile shields and similar items. Customers merely need to provide Bar-Ray with the logo and permission to use the logo. There is no minimum requirement.
The Cool Pack Insert, a Bar-Ray exclusive, uses specially designed cooling cells to provide up to three hours of temperature-regulated cool comfort for technicians and medical specialists conducting lengthy medical or diagnostic procedures. The compact design of the Cool Pack fits easily into a mesh pocket that is attached to an inside panel of a protective garment. When fully charged, the cells appear opaque white and provide a constant cool temperature. After 100 percent of the cooling charge is depleted, the cells become completely clear and can be recharged as quickly as 20 minutes in a refrigerator.
In addition, the 2012 Bar-Ray catalog also includes a page outlining radiation protection options for aprons available through Bar-Ray and a page offering research concerning radiation exposure and radiation protective eyewear provided by leading researchers in the fields of interventional radiology and ocular health.
Bar-Ray Quality Assurance Testing
From product development to distribution, Bar-Ray has 100 percent control over the quality of its products. An on-site physicist and chemist continually work to improve Bar-Ray's current product offerings while developing new products as the needs of the diagnostic and radiological industries grow. Bar-Ray also has an in-house x-ray testing lab.
Bar-Ray's personal radiation protection aprons, garments, apron and patient accessories, protective eyewear, apron racks, x-ray accessories and more are available through authorized distributors. To become a distributor or request a copy of the 2012 personal radiation protection products catalog, visit http://www.bar-ray.com.
About Bar-Ray Products
Bar-Ray Products (Bar-Ray) is an ISO 9001, CE, and FDA registered developer and the world's largest manufacturer of personal radiation protection products since 1930. The Bar-Ray product line consists of a full range of personal radiation protection garments, including standard weight, lightweight and lightweight lead-free radiation protection products, x-ray barriers, airport screening curtains, inspection products and much more. For more information about Bar-Ray and its products, call toll-free 800-359-6115 (717-359-9100 for international callers). E-mail info4barray(at)bar-ray(dot)com or visit http://www.bar-ray.com.