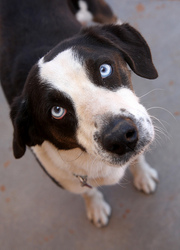 Best Friends, along with many other animal welfare groups around the country, urge the Obamas--and any family considering a dog--to adopt one from a local shelter or breed rescue group, and never buy one from a pet store
Kanab, UT (PRWEB) July 16, 2008
If Barack Obama is all about change, Best Friends Animal Society has a suggestion regarding the presidential candidate's reported search for a family dog.
"Adopt from a local animal shelter."
The Utah-based organization feels so strongly about its message that it has launched the web site "obamafamilydog.com," (http://www.obamafamilydog.com) to spread the word about the importance of adopting from a shelter or breed rescue organization. The new web site gives people a chance to sign a petition that urges the Obama Family to adopt a mixed-breed rescue dog--a recommendation in direct contrast to the American Kennel Club's purebred-only suggestions for the Obamas.
"There are thousands of affectionate, loyal dogs of all sizes, shapes, and colors trapped in the animal control system who need a way out," says Julie Castle, director of community programs for Best Friends, home to more than 2,000 adoptable animals. "There are also plenty of purebred dogs that can be adopted from breed rescue organizations, without purchasing one from a pet store."
"Best Friends, along with many other animal welfare groups around the country, urge the Obamas--and any family considering a dog--to adopt one from a local shelter or breed rescue group, and never buy one from a pet store," Castle said.
The new web site says that if Sen. Obama becomes president, he'll instantly be faced with decisions affecting millions of Americans. By adopting a dog, he'll be acting in the best interests of millions of American-born dogs who are looking for a loving home.
While the AKC has suggested five different types of purebred dogs that would fit the Obamas' lifestyle, obamafamilydog.com explains how a mixed breed dog can be an excellent choice when it comes to families.
"In America's shelters, millions of dogs are killed each year, in large part because there aren't enough families for them," Castle added. "For a candidate focused on 'hope' and 'change,' adopting a homeless pet is the right choice for the Obamas. It's a win-win situation--for the Obamas and for dogs everywhere."
The web site lists numerous reasons for families to adopt instead of buy from a pet store or breeder. These include saving lives of dogs that ultimately will be euthanized, making the socially responsible choice, decreasing the demand for dogs from puppy mills and others.
Castle said that preference for the look of a particular dog causes families to automatically seek out a breeder or pet shop.
"We understand that folks may have their heart set on a puppy or a particular breed," Castle said. "But the problem is when you buy from a pet store you help perpetuate the endless cycle of mass breeding that occurs in puppy mills, while thousands of abused, abandoned dogs languish or die in shelters every day."
Last week at a Los Angeles news conference, Best Friends Animal Society and Last Chance for Animals jointly announced the launch of "A Puppy-Store-Free LA" campaign to shine the light on tens of thousands of dogs across the United States that are trapped in puppy mills, which serve as suppliers for pet shops around the country.
"We're hoping the campaign can draw attention to and help stop the flow of puppies from puppy mils to pet stores, and at the same time make it more difficult to sell puppies from puppy mills," Castle said. "Consumers, including the Obamas, can help us in this regard by making what we feel is an ethical decision not to purchase any dog that comes from large-scale, for-profit breeding operations."
For people considering adopting a dog, Best Friends suggests a visit to a local shelter or looking online at any of the following web sites:
http://www.1-800-save-a-pet.com
http://www.pets911.com
http://www.petfinder.com
Potential adopters can also find a purebred dog from a breed rescue organization by searching http://www.google.com. Enter a city or state, the breed you are looking for, and the word "rescue."
"Kindness to Animals Builds a Better World for All of Us"
John Polis 435-644-2001 ext. 4858 (office) or 435-817-2980 (cell), johnp(at)bestfriends.org
Barbara Williamson (435) 644-2001 ext. 4808 or 435-689-0200 (cell), barbara(at)bestfriends.org
###