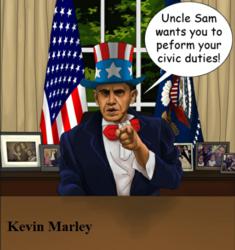 A Barack Obama Everyone Can Vote For!
Seattle, WA (PRWEB) May 30, 2012
Barack Obama tells the story and the complex life of Barack Hussein Obama, the 44th President of these so-called United States America, from birth to the pinnacle of power. The president is depicted talking to many heads of states from Kim Jong Il to Muammar Gaddafi to the Dalai Lama to Gordon Brown of the United Kingdom. At the same time, the president deals with many important crises during his term in office such as the Great Recession, the BP Oil spill and the Afghanistan and Iraq wars, and as such, he wears many different "hats" as Commander-in-Chief of the Armed Forces, Uncle Sam, Abraham Lincoln, General George Patton, and even Superman flying through a crowded metropolis trying to stop criminals.
"Barack Obama is one of the very best cartoons that I've come across in recent years," Jimmy Burns, a book reviewer, states. "It's a great cartoon – almost like The Daily Show sans Jon Stewart!"
"A fantastic book," Marvin Gredder writes, "I give it my highest rating!"
During a recent interview, Kevin Marley, the cartoonist and notable author of six books, stated, "I'm attempting to hold up a shiny and clear mirror to the present political situation in the United States, which is nothing too pretty to stare at. But perhaps, the first and most challenging step at political reform is to step back—and laugh!"
When asked why he wrote Barack Obama, Mr. Marley states, "I just finished Common Sense, a political book that, at least, conceptually lays out a plan for how we can move from a representative to a viable populist democracy during the next fifty years and after that particular task, I decided to move into political humor and satire to really just to deconstruct what was going on in Washington, D.C. It was a way to have fun."
In an unique marketing strategy, Mr. Marley is selling royalties on the book for a million dollars on Ebay.com. They are also holding two interesting contests: "I want to meet President Obama!" and "Who is the Funniest?" In addition to this cartoon book, Mr. Marley is the author of: Nirvana, Seeking, The Book of Life, Common Sense, and Day of Reckoning, and is working on his seventh book, The End.
Right now, Barack Obama is featured at the following website: http://www.barackobamacartoon.com, and more importantly, the 180-page full color book and the16-month and 52-week 2012 calendars can be bought on Amazon.com and Barnes and Noble.
Next month, The Barack Obama Cartoon Movie will be launched over the Internet and in select theaters, and talks are now underway with a major network for an ongoing TV series. They are right now raising funds for the movie on Kickstarter.com at: http://www.kickstarter.com/projects/1748893109/the-barack-obama-cartoon-movie.