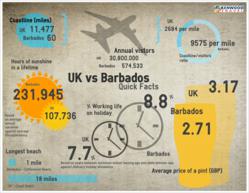 An infographic on Barbados is worth a thousand words
(PRWEB UK) 24 August 2012
Kenwood Travel has published on its travel blog infographics with facts on Barbados and comparisons between the Caribbean holiday island and the UK.
The popularity of infographics or data visualisation follows the adage "a picture is worth a thousand words." Or sort of, since infographics are made of pictures and words. The reader of Kenwood Travel's infographics on Barbados can assimilate facts on Barbados in an easy and quick way.
Kenwood Travel's infographics on Barbados holidays can be checked out at the Kenwood Travel Blog, and they show how Barbados measures up to the UK in different aspects, ranging from hours of sunshine in a lifetime to average price of a pint of beer.
About Kenwood Travel
To enter Kenwood Travel's competition to win a holiday to Barbados please click in this link.
To contact Kenwood Travel's consultants, please call 020 7749 9220.
Alternatively, visit the Kenwood Travel website on Barbados holidays for a comprehensive list of hotels, holiday packages and special holiday offers.
Kenwood Travel is a direct sell tour operator with over 35 years experience, a member of ABTA and ATOL holders (5664).
For affordable worldwide luxury package holidays, tailor made holidays, weddings, honeymoons or flights and fly drive holidays like Fly Drive Florida, Kenwood Travel is the trusted choice.
Kenwood Travel contracts directly with airlines and hotels to ensure there is no middleman taking a commission on these superb luxury holidays.
Kenwood Travel offers a range of different holiday destinations around the globe including holidays to the US, Caribbean holidays, hotels in the Middle East, and hotels and beach resorts of the Far East, Indian Ocean and Australia. Meanwhile an extensive selection of family holidays and all-inclusive packages will suit all tastes and budgets.