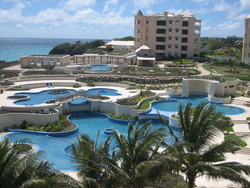 One of the things that few people realize is just how much choice there is when it comes to accommodation in Barbados
Bridgetown, Christ Church (PRWEB) February 3, 2009
Barbados has routinely been considered one of the world's top tourist destinations, its white sandy beaches and crystal clear azure seas beckon travelers from around the world particularly as the winter sets in across Europe and North America.
GreatBarbados.com, a leading Barbados accommodation and information website, has taken steps to make the process of accommodation selection easier than ever before.
"One of the things that few people realize is just how much choice there is when it comes to accommodation in Barbados," says Juliana Blackett, Creative Director of GreatBarbados.com. "It was important for us to provide a medium that allows travelers from around the world to view all types of different accommodations ranging from budget conscious to high end luxury complete with private butler, chef, house manager etc."
Tremendous Selection:
GreatBarbados.com features a tremendous selection of over 200 properties which have been categorized into Apartments/Condos, Vilas, Guest Houses/Inns and Hotels all in an effort to make the process of finding accommodations in Barbados as simple as possible.
Guest Reviews:
Website visitors can also and write reviews for properties where they have stayed. This "word of mouth" advertising is one of the ultimate ways for property owners to market their accommodation.
Jessica and Michael from Germany enjoyed a wonderful stay at Healthy Horizons Beach Apartment and decided to share their information with fellow website visitors: "Thanks very much it was so nice to stay at your apartment, we're sure to return, really! :-) With much love to Pamela and the paradise Island Barbados. Jessica & Michael Tamm from far away Germany."
Property owners like David Prescod of Lester, UK have really taken to GreatBarbados.com as they are able to make the most of their listing through the backend which allows them full control over their page: "It is an intuitive and easy to use site which entices me to explore." - Property owner, David Prescod
Visitors to Barbados have also been taking full advantage of GreatBarbados.com by sharing their experiences about their accommodation and Barbados with others from around the world.
Social Networking:
which allows guests at the click of a mouse to share any given property on GreatBarbaos.com with all of their online friends has proven to be tremendously exciting not just for guests but also for property owners.
Jane Shattuck who is a property owner says: "What interests me most about GreatBarbados.com is the social networking aspect of the site... TripAdvisor has a great forum, but no one to my knowledge does social networking in as comprehensive a manner as GreatBarbados.com. I'm proud to be included in the site. I also appreciate your care in each property's layout and how easy you make social networking."

Jane Shattuck, Barbados (SouthCoastBarbadosRentals.com)
GreatBarbados.com has dramatically changed the way website visitors from around the globe view accommodation in one of the world's most popular destinations.
GreatBarbados.com is a leading accommodation listing website for Barbados. Listing over 200 properties, GreatBarbados.com provides website visitors with detailed property listings for Hotels, Apartments, Villas and Inns. Website visitors are able to contact property owners and managers directly, share reviews with other visitors and add property listings to their favourite social networking sites like Facebook and MySpace.
###