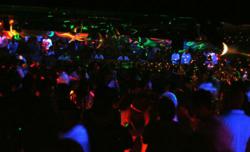 Barbados entertainment is changing...the dance music scene has landed in Barbados.
Barbados (PRWEB) April 18, 2012
Barbados entertainment is changing...the dance music scene has landed in Barbados.
Hundreds of Americans are flocking to Barbados to see Carl Cox, the king of house and techno music, play at Sugar nightclub in St. Lawrence Gap on Friday 20th April 2012.
Music lovers who enjoy sun, sea and sand, why not uncover when your favorite artist, festival or event will be showcased in Barbados by regularly checking the Totally Barbados Events Calendar.
Carl Cox was born in the UK to Barbadian parents, and started learning to DJ at just eight years old. He is now a world renowned producer, artist, re-mixer, radio DJ and businessman.
In 2012 Carol Cox will be performing at the Ultra Music Festival in Miami, which attracts 150,000 fans. He has also celebrated an amazing ten-year residency at the club that was voted number one Club in The World in 2011 "Space" in Ibiza.
Carl Cox is looking forward to playing in his motherland, Barbados this weekend at Sugar nightclub, where his friends and family will be in the audience.
Sugar nightclub is a new Ibiza style dance club that has opened in Barbados, and is located in St Lawrence Gap. It has an open air dance floor, a VIP lounge area, and an innovative, illuminated wall-feature that changes color in time with the music.
A wave of new nightclubs and events have hit Barbados' shores this year, including the hugely popular Priva Barbados nightclub, which showcases top English DJs every month.
As hundreds of American flights take off, so has the dance music scene on the paradise island of Barbados.
Skream, who wrote the La Roux number 1 smash hit 'In for the kill', played dub step on the roof of Limegrove in Barbados this year, a glamorous new events area which overlooks the west of the island.
What's more, Barbados hosted its first ever international pop, dance and house music festival, "The Music Factory," which was organized by Illusions. This is the same Barbadian events company who are showcasing Carl Cox this weekend.
Illusions Entertainment, spearheaded by Managing Director Craig Corrie, are the recognized leaders of the dance music movement in Barbados. Mr Corrie is over the moon to showcase Carl Cox's talents under the moon, in one of Barbados' most glamorous open-air nightclubs.
Totally Barbados is the leading website for information about Barbados, and has been hot on the heels of events like these. It is one of the best places to find out what is hip and happening on the island of Barbados.
Totally Barbados is used by locals and tourists alike to stay abreast of the exciting new events that are taking place in Barbados, the island of eternal sun, sand and fun.
Canada's very own CHUM FM also hosted a concert in Barbados last weekend, showcasing Nelly Furtado and K'Naan.
Join the Totally Barbados VIP email newsletter so that Barbados event information comes straight to your inbox.
If visiting Barbados in the next week and would like to attend the Carl Cox dance event, secure your ticket by going to http://caribbeaneventshub.com/.
General Admission- $150
VIP Lounge: $300
VIP Includes:

Reserved Scure Parking
Priority Access
Reserved Elevated Area
Lounge Seating
Premium Drinks
About Totally Barbados and Brecal Inc.
Brecal Inc., operating under the name 'Totally Barbados' was founded by Brett Callaghan and is based in Barbados in the Caribbean. The company was incorporated February 24th, 2005.
Totally Barbados was voted the "World's Leading Travel Destination Website" for 2008, 2009 and 2010 by the World Travel Awards.
By guiding visitors to Barbados hotels, car rentals, restaurants, attractions and more on Totally Barbados dot com, visitors can easily plan their entire holiday and vacation, before arriving in Barbados.
Promoting all there is to know about the Caribbean Island of Barbados - that's Totally Barbados.
Media Contact
Founder and Managing Director
Brett Callaghan,
Brecal Inc. / Totally Barbados
140 B Durants Fairways,
Christ Church, BB17097,
Barbados.
For more information on Brecal Inc. / Totally Barbados, please call (866) 978-5898 or (246) 420-2420.
Email: service(at)totallybarbados(dot)com