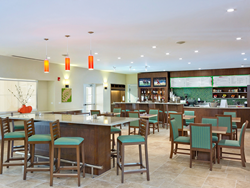 General Manager Kelly-Ann Mayers is always happy to participate in any gesture that will "wow" her guests.
(PRWEB) May 22, 2014
Wednesday nights at The Centro Restaurant are being transformed into evenings of entertainment and great food! Located at Courtyard by Marriott Bridgetown Barbados, the Associates of this property look forward to welcoming guests to these weekly themed evenings.
Among the first to attend to savor these delectable dishes was a representative from Totally Barbados.
Carefully selected menus of international cuisine, ranging from Italian to Mexican fare are available. Lively notes will caress the atmosphere as a local musician plays the evening away for a perfect combination of fun and food.
Also on the weekly schedule of activities for the summer in Barbados are the Friday Night BBQ's. All are invited to this casual affair where local delicacies are prepared by Head Chef Dario Daniel and his team, outdoors on the Courtyard Terrace.
On a wider scope, Marriott is known for its versatility in the application of technology to enhance the guests' experience; and in keeping with this tradition, The Centro Restaurant at Courtyard by Marriott Bridgetown Barbados, recently launched its new electronic Menu Board.
This new and improved display is one of the many initiatives undertaken in the company's efforts to "Go Green."
General Manager Kelly-Ann Mayers stated that this has been a work in progress and she is always happy to participate in any gesture that will "wow" her guests.
Maintaining that there is a special focus on preserving the environment, Mayers applauded her team for successfully launching the display and informing guests of its use.
She also drew attention to other facilities at the property that make it easy for guests to enjoy their time their way. Some of these are the "Go Board ®" a 57" Touch Screen that maps out nearby restaurants and attractions along with Flight Arrival Times and the "Virtual Concierge" that allows guests to view the hotel before check in is completed.
No reservations needed, just bring your friends anytime, and let the Courtyard Team make your visit "A New Stay!"
About Courtyard by Marriott
Courtyard by Marriott offers a refreshing environment that helps guests stay connected, productive and balanced. Intuitive services and design accommodate guests' needs for choice and control. With nearly 900 locations in 34 countries, Courtyard is Marriott's largest brand.
All Courtyard by Marriott hotels participate in the award-winning Marriott Rewards frequent travel program that allows members to earn hotel points or airline miles for every dollar spent during each stay.
Media Contact
Tawania Hinds
Courtyard by Marriott Bridgetown, Barbados
246-625-0000
http://www.courtyardbarbados.com
About Totally Barbados
Totally Barbados is the official destination island guide of Barbados. Conceptualized, organized and founded by local entrepreneur, Brett Callaghan, to promote Barbados tourism worldwide through http://www.TotallyBarbados.com.
Totally Barbados is your comprehensive island guide, locally developed and maintained in Barbados, offering information related to living, visiting, working, investing, owning real estate and doing business in and with Barbados. We are proud to be 100% Bajan.
Media Contact
Founder and Managing Director
Brett Callaghan
Brecal Inc./Totally Barbados
140 B Durants Fairways,
Christ Church, BB17097,
Barbados
For more information on Brecal Inc. / Totally Barbados, please call (866) 978-5898 or (246) 420-2420.
Email: service (at) totallybarbados (dot) com
Information received and compiled by Brett Callaghan and supporting staff of Totally Barbados.