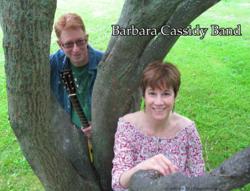 "[Barbara Cassidy] leaves traditional forms very much the way she found them, after doing them sweet, tender justice." - Bill Copeland Music News
Boston, MA (PRWEB) May 08, 2013
Barbara Cassidy Band announces the release of their new album, "Fly Away."
The six-song EP features four new Cassidy/Chasalow songs and two additional cover songs and includes the musical participation of Neal Hampton (piano), Dan Carp (percussion), Peter Van Zandt Lane (mandolin), and Tim Obetz (pedal steel and Dobro). Eric, in addition to producing, engineering and mixing, contributes vocals, guitars, electronics, piano, percussion, winds and harmonica. "Fly Away" was mastered by Ian Kennedy.
Thematically, the songs encompass the need for and the joy of "flight" and the "space between" making decisions, moving forward, escaping and nothingness. From a re-telling of the Icarus Myth in their song "Fly Away" to taking a journey to the truth in "Are You Finding What You Need?" to the swirling dust and ash of "How it Goes," to reaching a dead end in "I Ran Out of Innocence," the album showcases the broad musical talents of the couple.
-----
Praise for their 2012 debut CD "Leaving Things the Way I Found Them":
"Cassidy is, [a natural lyricist] and she taps effortlessly into an American story-telling-folk tradition, and does so in a way that seems utterly authentic…" - Leicester Bangs, U.K.
"[Barbara Cassidy] leaves traditional forms very much the way she found them, after doing them sweet, tender justice." - Bill Copeland Music News
"…a really engaging start to their folk career … much in the manner of those classic 60s folk/folk-rock albums from the likes of the Fariñas or Ian & Sylvia where a number of different styles coexist, collide and collude to configure a patchwork tapestry of varying hues.." - FATEA, U.K.
-----
The Barbara Cassidy Band is Barbara Cassidy, vocals, Eric Chasalow (her husband), guitar and vocals, and guests. In 2010 they began songwriting and performing together. Along with their originals, the couple also performs American and Irish Traditional songs.
Barbara Cassidy sings with the voice she was born with. She has, at various times, been a company member of the Free Street Theater of Chicago, riding shotgun around the country in their "Showmobile," had a brief stint as a runway model, built a recording studio, performed for the inmates of Cook County Jail, directed new plays, worked on nationally televised science programs for PBS, taught dance and performed in summer stock, served as a living historian from 1803 and waited tables in a maple sugar house in her hometown of Ashfield, Massachusetts. She has driven the occasional tractor and helped with the haying. She has a Master's degree in Sociology and Women's Studies from Brandeis University where her thesis centered on cultural images of women in torch songs of the American musical theater of the 1920s. She and Eric are co-curators of the oral history project: The Video Archive of the Electro-Acoustic Music. She is a member of Actors' Equity and ASCAP.
Eric Chasalow grew up in northern New Jersey listening obsessively to The Beatles and Charlie Parker, and making trips into New York to hear jazz greats play live. After a childhood spent fixated on learning to play guitar, saxophone and flute and write big band charts, he went to Bates College in Maine, where he spent a considerable amount of time backpacking, fishing, beachcombing, digging clams in zero-degree weather, and studying to be a marine biologist, until seasickness convinced him otherwise. He also spent time at New England Conservatory, writing and playing with a jazz quartet and trying hard to play guitar like Norman Blake. Moving to New York City, he studied at the first electronic music studio in the US (the Columbia-Princeton Electronic Music Center), earning a doctorate from Columbia University. While a student, he played flute on the street (in front of Zabar's) and started a location recording business, meeting and working for countless musicians, from cellist, Carter Brey and soprano, Bethany Beardslee to composer, John Cage. His music appears on CD's from New World Records, and he has won lots and lots of awards. Eric is now Professor of Music at Brandeis University where he teaches composition and directs BEAMS (Brandeis Electro-Acoustic Music Studio).
Band web site: http://www.barbaracassidyband.com
Twitter: BCassidyBand
If you have any questions, comments or would like to set up an interview, please contact Melissa Zeigler at melissa(at)powderfingerpromo(dot)com.
Powderfinger Promotions Independent Radio Promotion and Publicity - Since being founded in October 1994, Powderfinger has come to be regarded as a top indie radio promoter and publicity firm with ties across North America.