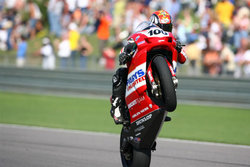 Birmingham, Ala. (Vocus) January 24, 2008
Zoom Motorsports, the exclusive event promoter and management team for the Barber Motorsports Park , is pleased to announce the schedule of events for the 2008 racing season at the Barber Motorsports Park. The Park will host the AMA Honda Superbike Classic and the Grand-Am Rolex Sports Car Series for the sixth consecutive year. In addition, the Park will host the fourth annual Barber Vintage Festival, the second largest celebration of vintage motorcycles in the country.
The 2008 season will also feature two new events. In March, the Mid-Alabama Corvette Club will host a one-day Corvette and Hot Rod Show to benefit several local charities, and the Barber Historics at the Park sportscar show will take place in August during the SCCA race weekend. In addition, the Grand-Am Rolex Series brings the exciting SunTrust MOTO-ST motorcycle road racing series with them in July for the first time.
For the true racing enthusiast, a season pass is available for the 2008 racing season. At a price of only $150, the season pass allows weekend general admission and paddock access to all spectator events throughout the year and includes an official Barber Motorsports Park lanyard and credential holder exclusive to season pass holders.
2008 Spectator Events:
March 8 -- MACC Attack Corvette and Hot Rod Show*
April 18-20 -- AMA Honda Superbike Classic
May 3-4 -- WERA Sportbike Series (Regionals)
June 6-8 -- National Auto Sport Association (NASA)
July 18-20 -- Grand American Rolex Sports Car Series – Porsche 250 presented by Bradley Arant
August 29-31 -- Sportscar Club of America (SCCA)
August 30 -- Barber Historics at the Park sportscar show*
September 19-21 -- WERA Sportbike Series (Nationals)
October 17-19 -- Barber Vintage Festival and AHRMA Racing
*New 2008 event
For additional event, ticket and season pass information, please visit the Barber Motorsports Park Web site at http://www.barbermotorsports.com.
About Barber Motorsports Park and Zoom Motorsports:
Barber Motorsports Park opened in the spring of 2003. Since its inception, Zoom Motorsports, LLC has been the exclusive event promoter for the events at the Park. The 2.38 mile track is 45 feet wide, with 16 turns and elevation changes of more than 80 feet. Designed by well-known track designer Alan Wilson, the Barber Motorsports Park has been considered one of North America's finest road courses for car and motorcycle racing. The Barber Motorsports Park also features the Barber Vintage Motorsports Museum. This 144,000 square-foot facility houses more than 1,000 vintage and modern motorcycles from 17 different nations and more than 125 manufacturers.
Media Contact:
Rose Kausler, Public Relations
205.262.2824
rkausler @ brunoeventteam.com
# # #