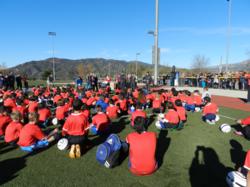 "Whether you are 6 years old or part of the first team, the training is exactly the same. As they move up to the academy and to the first team, nothing changes, only the stadium, the atmosphere." - Frank Bagheri
Los Angeles, CA (PRWEB) April 25, 2012
FC Barcelona sets out to develop United States' Lionel Messi. FCBarcelona and AASEI open FCBarcelona Soccer Camps in the U.S. to train and develop youth Soccer enthusiasts of the United States of America.
Los Angeles, April 11, 2012: Moments after finalizing contracts and licenses, the first FC Barcelona Soccer Camp was authorized, executed and sold out in Los Angeles, California in a matter of weeks. These one of a kind camps will be popping up all over the country by the summer of 2012, cities include Portland, Oregon; Seattle, Washington; San Jose, California; San Antonio, Texas; New York, New York; and Los Angeles, California. Camps will be held in July and August 2012. These camps serve as a major stepping-stone for the participants who wish to move to more serious training. The FCBEscola Technical Team will travel from Spain to oversee preparation and execution of all Camps hosted in the country. It will provide our youth with access to the highest levels of soccer training and development and will be open to all interested on a first come first served basis.
Frank Bagheri, President of AASEI, at the conclusion of the Los Angeles' Holiday Camp said, "It was a Great Success!! For one week, together with the FC Barcelona Based coaches, we transformed the Glendale Sports Complex into an Inaugural FCB Escola training camp with all of its values, discipline and training. To say we noticed players improve in Los Angeles is an understatement. We, literally, saw nearly 140 participants transform into "Barcelona Style" Players."
The natural progression from the Camps will be to setup the FCB Escola, the official football school of FC Barcelona. This is the trademark after school intensive training program that trains the players year round, three times a week. It caters specifically to players aged 6-14, prepares them for the rigors of professional soccer and is a major feeder school to the club's world class academy La Masia. This residential youth academy has produced superstars such as Lionel Messi, Cesc Fabregas, Xavi Hernandez, Gerard Pique, Victor Valdes, Carlos Puyol and Andres Iniesta, to name a few.
FC Barcelona's claim to fame is their unique training style and with their end of game possession stats that are nearly unbeatable, it is hard to argue that a better style of play is yet to be discovered. In association with FC Barcelona, AASEI is now expanding these methods throughout the U.S. and will do so with as much passion and vigor as FC Barcelona has done throughout the world with locations in India, Singapore, South Korea, England, El Salvador, Brazil, Argentina and Slovenia.
FC Barcelona training methods do not differ between the levels of skill in the various training levels of the club. Whether you are in FCB Escola, the academy, the second team or the first team, the training drills stay exactly the same.
Taking these ideas and transplanting them, FCB Escola Coaches arrived from Spain and transformed Los Angeles into a mini-Barcelona Academy. With children varying in ages from 6 to 16, the drills remained the same. One would seem doubtful with this notion, but after seeing the tremendous transformation of the participants from Monday to Friday, you would be quick to realize the methodology they employ works perfectly.
Having eight FCB players on Spain's 2012 FIFA World Cup winning team, it is easy to see the progressive system is a successful one and with eight of FC Barcelona's starting eleven having come up from the Academy, it is wise to be excited for this style of play to hit America. This system is quickly spreading, eager to touch any young player reaching for success as a professional. With over 20,000 participants in over 20 cities throughout the world, FC Barcelona seems to be speeding down the road of youth soccer and it appears that they will not be slowing down.
ABOUT FC BARCELONA
FCBarcelona was founded in 1899 and is now one of the most popular and supported football clubs in the world. The club prides itself on its ability to form players with dedication, patience and effort as opposed to buying them. This methodology has proven to be successful, as FCBarcelona has achieved more titles than most clubs in the world, including a record 6 championships during the 2008-2009 season.
Please contact AASEI or FC Barcelona for more information and Press Inquiries
info(at)aasportsent(dot)com
http://www.barcelonacamps.com
818-306-8225