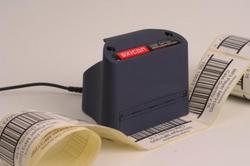 The availability of hands-on testing really takes the anxiety out of the buying decision.
Minneapolis, MN (PRWEB) July 13, 2010
Symbology, Inc. has introduced a flexible new way to choose a barcode verifier. Clients can now try out a verifier before making a purchase decision with the "Try B4 U Buy" program. For a minimal fee, users can try out one of the ISO/ANSI conforming hand held barcode verifiers for 30 days. If they love it….they can buy it with the testing fee applying towards the purchase price. If they don't love it, they simply return it with no further obligation.
Aperture size, portability, code format/symbology are all factors in finding the easiest, most accurate verification/inspection equipment for specific applications. "We will provide expertise throughout the selection process, to help ensure that users find the best fit in verifiers." states John Gorowsky, Vice President of Sales & Marketing for Symbology. "And now, the availability of hands-on testing really takes the anxiety out of the buying decision."
The Try B4 U Buy program is available on most hand held barcode verifiers offered by Symbology. For details, or to set up a trial period, contact the Sales Department - sales@symbology.com 800.328.2612 x 1085 (763.315.8085).
Check Symbology's web site for additional barcode information regarding digital files, labels, verification equipment and more. http://www.symbology.com .
About Us:
Symbology, Inc., established in 1980, is a leading provider of digital barcode files including the DataBar coupon code. In addition, they are a specialty manufacturer of sequentially numbered barcode labels, featuring custom and standardized industry-specific label products for library, blood, tire, medical and material handling. An ISO 9001:2008 certified company; they also offer a complete line of inspection/verification equipment. Customers around the globe choose Symbology for high quality products, technological expertise, and unsurpassed customer service. Offices are located in Maple Grove, Minnesota. Web address: http://www.symbology.com.
Inquiries may be directed to Judy Dodson at Symbology, Incorporated, 7351 Kirkwood Lane North, Suite 126, Maple Grove, MN, 55369. Phone 763.315.8056
###