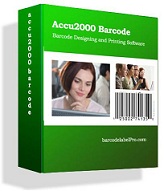 The free online barcode generator shows developers just basic functions of what Accu2000 can do and, additionally, provides a useful tool for small businesses that want to experiment with using barcodes in their business
New York, NY (PRWEB) May 31, 2011
BarcodelabelPro.com recently released a new online barcode generator that's free for use by anyone - even for commercial purposes. It can be found online at http://www.barcodelabelpro.com/ASPexample/Default.aspx
The free online barcode generator supports more than 20 commonly used linear and 2-D barcode symbologies, including increasingly popular QR Codes. Users simply choose the symbology they want to use, set the properties and click a button to generate a barcode image. They can download the image directly or e-mail it and then import it into other applications to print on labels, incorporate into packaging or marketing materials, or used in many other ways.
Barcodes created by BarcodelabelPro.com's free online barcode generator can be used for a variety of purposes from inventory control and document tracking to marketing and advertising. QR Codes, especially, have become a popular way to connect online, offline and mobile marketing efforts to generate better response rates from customers.
The free online barcode generator was built using the Accu2000 Barcode Component for ASP.NET to demonstrate how the software component can be used when integrated with another software application.
"The free online barcode generator shows developers just basic functions of what Accu2000 can do and, additionally, provides a useful tool for small businesses that want to experiment with using barcodes in their business," said Dr. Ge, founder of BarcodelabelPro.com.
Accu2000 Barcode Component is a .NET assembly that generates barcode images. It is available in .NET assemblies for use with both Windows Forms Applications and asp.net. When incorporated into a software application, developers may distribute the Accu2000 assembly for retail use. Royalty-free distribution is available for customers who purchase a valid license. More information on Accu2000 Barcode Component can be found online at http://www.barcodelabelpro.com/Barcode-net-Library.asp
Developers interested in trying Accu2000 can download the trial version for free. The trial version is fully functional and has no expiry date. However, a "TRIAL" legend will appear on generated barcode images. The trial version does not include distribution rights.
Once a developer decides Accu2000 is right for use with their application, a distribution license can be purchased online for as little as $99.
About barcodelabelpro.com
The free online barcode generator and Accu200 Barcode Component are developed and distributed by Louisville, Ky.-based BarcodelabelPro.com, the maker of Accu2000 Barcode Maker. Barcode Maker is software for designing and printing barcode labels. It is designed for easy use by business owners and managers and priced affordably for any size business.
For more information about Accu2000 Barcode and BarcodelabelPro.com, please contact
barcodelabelpro.com
P.O. Box 17067 Louisville, KY 40217 USA
email: contact(at)barcodelabelpro(dot)com
Fax: (866) 909-6448
Or visit the Web Site at: http://www.barcodelabelpro.com
###