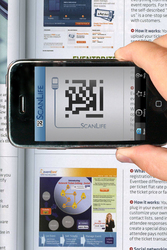 "In one click, a commuter can see where their exact bus is located to help make an informed decision on whether they should find an alternate route. This is all about saving time and making life easier
New York, NY (PRWEB) July 8, 2010
Scanbuy, Inc., the global leader in mobile barcode solutions, announced today that the public transit system in Santiago, Chile has deployed a system which gives riders immediate access to bus location information. Over 4,000 bus stops around the capitol city have been activated with the technology allowing a rider to scan a 2D (two-dimensional) barcode with their camera phone to display the exact location of that specific bus.
Transantiago, the public transit system, is using existing GPS devices located on most of the buses in the system to provide riders with information in real-time. Each bus stop has a 2D barcode which links to a mobile-formatted URL showing the expected arrival time of each bus.
Users can simply scan the codes to launch information in a matter of seconds without needing to navigate down to the correct route or stop. The feature saves critical time for commuters, and gives them access to constantly updated information.
"This is a fantastic application for 2D barcode technology and shows how versatile it can be for so many industries," said Jonathan Bulkeley, Chief Executive Officer of Scanbuy. "In one click, a commuter can see where their exact bus is located to help make an informed decision on whether they should find an alternate route. This is all about saving time and making life easier."
The ScanLife mobile application is locally called Codigo and is compatible with a wide variety of platforms from iPhone to BlackBerry to Symbian. It reads all commonly used code formats like QR, Datamatrix, EZcode, and UPC. It can be downloaded for free from http://www.getscanlife.com on the mobile browser.
About Scanbuy, Inc.
Scanbuy is the leading global provider of mobile barcode solutions that use the camera phone as the link between the physical world and the digital world. The ScanLife solution consists of a widely available mobile application and a Code Management Platform. The technology has been successfully deployed and supported by leading mobile providers and handset manufacturers in North America, Latin America and Europe. Media companies and marketers use the solution to create and manage measurable barcode campaigns, extending brand engagement onto mobile devices.
Scanbuy has the largest and oldest patent portfolio of any company in the industry, with over 30 patents granted covering the entire solution. The company's investors include Motorola Ventures, Hudson Ventures, Masthead Venture Partners, and Longworth Venture Partners.
For more information on Scanbuy, please visit http://www.scanbuy.com or http://www.scanlife.com.
Media Contact:
press(at)scanbuy(dot)com
# # #