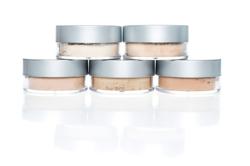 Our natural makeup and cosmetics are suitable for everyone, from women who are pregnant to those who just want to be responsible consumers.
(PRWEB) May 06, 2013
Bare Blossom cosmetics have a lot to bring to the table this month. They are unveiling their beautiful line of cosmetics and officially launching as a company. By using natural ingredients and responsible business practices, they have managed to preserve the vivid colors and excellent quality of their product while remaining completely vegan and animal friendly.
Their makeup is never tested on animals and is free of all animal products. It is completely safe for women who are pregnant and works wonderful with most skin types- including for those that are allergy prone! The product line includes the necessities for creating favorite makeup looks, whether the wearer prefers a more dramatic smoky eye or just a natural glow.
Commenting on their success, creator of the company Adriana Woolf stated, "I am so excited for Bare Blossom to launch. We have created a product that let's women enhance their natural beauty, inside and out! Our makeup is suitable for everyone, from women who are pregnant to those who just want to be responsible consumers."
Bare Blossom Mineral Makeup and Cosmetics will never contain:

Animal Products
Artificial Dyes
Bismuth Oxychloride
Ferric Ferrocyanide
Harsh Chemicals
Mineral Oil
Parabens
Paraffin Wax
Propylene Glycol
Phenoxyethanol
Phthalates
Sodium Hydroxide
Sodium Laurel Sulphate
Sodium Laureth Sulphate
Talc
Honey
Milk
Beeswax
About Bare Blossom
Bare Blossom was created by Adriana Woolf, and was inspired by her love of makeup. After being diagnosed with Secondary Raynaud's (which is why she wears gloves) and a connective tissue disorder, Adriana was advised by her doctors that she needed to take care of her health. She was told to avoid applying harsh chemicals to her skin because certain chemicals in makeup and cosmetics could penetrate the skin and potentially harm her organs. Unable to find a truly low toxic beauty range on the market without the addition of harsh, unnecessary chemicals, Adriana decided to design her own line. Bare Blossom is the result. Launched March, 2013, Bare Blossom mineral makeup and cosmetics are 100% animal product and cruelty free. They are registered with PETA and the UK Vegan Society.
Contact
Adriana Woolf
Phone- 0401671151
http://www.bareblossom.com.au/