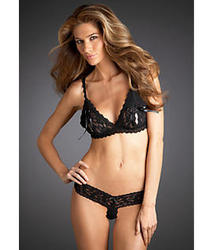 We wanted to see what would happen if we pushed the envelope a little further
Avenel, NJ (PRWEB) April 14, 2010
The "World's Most Comfortable Thong®" just got a bit sexier.
Lingerie designer Hanky Panky this month launched a risqué 'open panel' version of its best-selling Signature Lace thong. The 'open panel' low-rise thong, along with the matching 'peek-a-boo' bra, is part of a new limited edition collection that is being launched exclusively with online lingerie retailer BareNecessities.com.
Known as "The World's Most Comfortable Thong" by its devotees, which according to Hanky Panky include celebrities such as Rihanna and Courtney Cox, the Hanky Panky Signature Lace thong has developed a passionately loyal following for its incredibly soft feel, all day comfort and lacy sex appeal. Since its introduction in the mid-1980s, Hanky Panky has translated its signature fabric and lace detailing into a complete lingerie collection which includes a variety of panty silhouettes and color combinations, as well as bras, camisoles and eveningwear.
This month, Hanky Panky is extending into a more risqué segment of the lingerie market by creating a collection of three peek-a-boo bras matched to three coordinating open crotch panties, made with its signature lace fabrication.
"We're working on extending our popular signature lace fabric into a sexier collection of lingerie called 'After Midnight', and we wanted to see what would happen if we pushed the envelope a little further," said Lida Orzeck, Co-Founder of Hanky Panky. "Partnering with BareNecessities.com for this launch allows us to trial this product in a limited way but yet still achieve national distribution."
Hanky Panky's sexy new bra and panty collection will be available exclusively at Bare Necessities through May 25th.
About Hanky Panky
Established in 1977, Hanky Panky is one of the leading manufacturers of designer intimate apparel. Best known for its trademarked "World's Most Comfortable Thong®", Hanky Panky has developed a loyal following among celebrities and professional women alike for its Signature Lace thongs and panties. Based in Manhattan, Hanky Panky manufactures many of its products in the United States, and sources domestic-made components wherever feasible.
About Bare Necessities
Bare Necessities is among the 50 largest online apparel retail websites, according to Internet Retailer Magazine, and second only to Victoria's Secret among online lingerie retailers. The flagship site, http://www.barenecessities.com, was launched in 1998, and features bras, panties, hosiery, lingerie, swimwear and underwear from more than 120 brands. Bare Necessities also operates http://www.lingerie.com, which offers more provocative lingerie such as babydolls, bustiers, teddies, garters and sexy costumes.
###