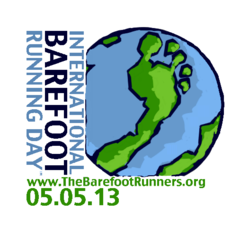 Can you think of a better way to end a 1k or 5k barefoot run than with a gourmet donut? We can't!
Boulder, CO (PRWEB) April 30, 2013
May 5, 2013 is the 3rd Annual International Barefoot Running Day (IBRD), a grassroots effort to promote the fun, healthy, and viable option of running without shoes. As part of this worldwide event, Boulder's Xero Shoes is hosting a 1k and 5k "Donut Dash" for barefoot runners of all – or zero – experience.
IBRD is the brainchild of Tamara Gerken, the president of The Barefoot Runners Society. Says Gerken, "We welcome anyone who's curious about barefoot running to join us for this free, world-uniting event." She adds, "We also welcome anyone who runs in minimalist shoes, too."
Xero Shoes CEO, Steven Sashen, came up with the Donut Dash idea. "Our office is next door to the gourmet doughnut shop, Dizzy's Donuts, and we can't think of a more fun way to end a run than with a 'Boulder Cream' doughnut."
The Donut Dash begins at 10am at the Xero Shoes Boulder office at 5470 Conestoga Ct. on Sunday, May 5th. The event begins with free instructions about how to safely run barefoot. After the barefoot running lesson, participants can choose to try out their skills on either a 1k or 5k run around the neighborhood, with each run ending at Dizzy's Donuts where they can buy a delectable pastry at a discount.
Register for the Xero Shoes IBRD Donut Dash at http://www.xeroshoes.com/ibrd.
Xero Shoes will also offer participants sale prices on their award-winning barefoot sandals that appeared on ABC's Shark Tank in February.