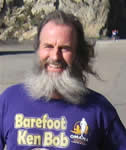 Learn to run barefoot... pain-free and fun-full!
Boulder, CO (PRWEB) May 22, 2013
Barefoot running pioneer, and author of the best-selling Barefoot Running Step By Step, "Barefoot Ken Bob" Saxton, is offering a free workshop in Boulder, Colorado on Friday, May 24th.
In "How to Move Forward without Breaking your Feet or other Body Parts… EVEN in Barefoot Shoes!" Ken will share the techniques and secrets of pain-free – and FUN – barefoot running. This class is open to anyone interested in exploring barefoot and minimalist running, hiking, and walking.
The event is at the offices of Xero Shoes, 5470 Conestoga Court, Boulder, CO 80301 from 7:00pm until 9:00pm.
Harvard professor and barefoot running expert, Daniel Lieberman, calls Ken Bob, "A pioneer of the modern barefoot running movement who has logged more miles in his birthday shoes than just about anyone I know, and has helped countless people run barefoot." Ken Bob has completed over 400 races in his bare feet.