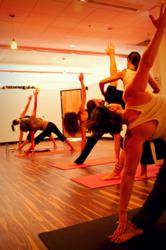 Tucson, Arizona (PRWEB) April 03, 2013
For two years, Barefoot Studio has been keeping Tucson healthy with quality yoga, massage, and skin care at prices that make wellness available to all walks of life. In celebration of its two-year anniversary and appreciation of the community that made success possible, Barefoot Studio will be having a full-day of unbelievable free specials Saturday April 27.
From 8am to 4pm, walk down, enjoy, and be well with free yoga, free brow waxes, and free foot massages. It's odd, but it's not the birthday boy who will get all the gifts on Barefoot's Birthday. It will be the guests. It's a celebration of Barefoot Studio and, more importantly, the strong, healthy community that's been built around Barefoot and enabled it to thrive.
The services won't be the only free things on Barefoot's Birthday. There will also be door prizes, raffles, and of course refreshments. To those who love Barefoot Studio, love yoga, massages, skin treatments, or wellness, or just love a good time, come and bring a friend to Barefoot Studio for its two-year anniversary!
Be sure to sign up for spa services ahead of time and sample everything this special day offers.
It's such a special community that has grown around Barefoot Studio in the last two years. Its goal is to bring health and wellness to all walks of life, and with the way things are going this healthy community will continue to grow for many years to come.
Nuanced Media has been working with Barefoot Studio from the beginning. Both companies are quickly expanding their territories with dedication to their respective trades. Nuanced Media continues working with local companies to help promote Tucson on a bigger scale.
About Nuanced Media:
Nuanced Media is a revolutionary marketing, website design and business consulting website. We pride ourselves in our hard work and dedication to drive more consumers towards your webpage. Through social media marketing, search engine optimization, and personalized graphic design we ensure that your company will love our work.
Follow us on Facebook and Twitter