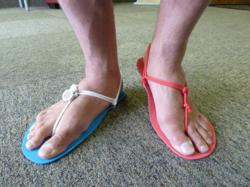 Xeros are the only barefoot shoes with a 90+% score that stand up to the stress of serious running.
Boulder, CO (PRWEB) October 31, 2012
In the first-ever ranking system for barefoot and minimalist shoes, Xero Shoes (formerly Invisible Shoes) achieved the highest rating. The Canadian sports physiotherapy site, http://www.TheRunningClinic.ca, compared over 40 "barefoot" or minimalist shoes on a scale from 1-100%. Xero Shoes earned a top-rated 94%.
The Running Clinic site says about Xero Shoes, "As minimalist as footwear can get! …highly recommended and very minimalistic price."
The rating system tries to resolve the confusion in the barefoot/minimalist footwear market, where many products are sold using the same terminology, by comparing products' dynamism, flexibility, and weight. Xero Shoes ranked at the top in all 3 categories.
Sashen hopes the website's rating scale becomes more popular so consumers can purchase what they truly want. "Most of the shoes that call themselves 'barefoot,'" says Xero Shoes developer Steven Sashen, "are no closer to barefoot than a pair of stilts."
"What we're most proud of," says Sashen, "is that none of the other products with a rating over 90% can be used for serious running. But we have thousands of runners, and even hundreds of ultramarathoners, who use our shoes."
"Plus," Sashen adds, "our closest competitor scored an 83, and the top-selling minimalist shoe, the Nike Free, only scored a 72."
According to the website, "A perfect shoe should protect the skin from lacerations and cold, while minimizing the interface between the foot and the ground. The better the shoe is at replicating a bare foot situation, the [better]."