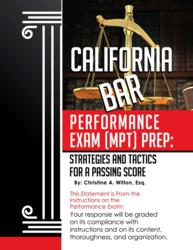 Some people dream of worthy accomplishments, while others stay awake and achieve them.
Los Angeles, CA (PRWEB) June 12, 2013
The July 2013 Bar Exam is fast approaching for recent law school graduates hoping to become lawyers. There is so much hustle and bustle with graduation in June and the bar exam six weeks later. The stakes are high. The information being thrown at these bar exam takers is overwhelming and confusing, but it doesn't have to be that way. Learning from someone who has been in the trenches is a practical strategy rather than a large company profiting from endless need to repeat the exam until the right strategy is employed. It's brutal.
Christine A. Wilton, Esq. tells us that she developed her strategy out of a need for efficiency and best use of her time during the three hour exam. "Time is at a premium and since I read slow and type fast, I put my strengths to work by typing as I read," says attorney Wilton. Another benefit to this unique strategy, she explained, was that it made the other exam takers very nervous because they had been taught a completely different method.
The California Bar Performance Exam guide promises to provide a proven five step strategy that will take the examinee through the process of breaking down the performance exam and submitting a passing answer every time. The guide is available as an e-book, as well as paperback and kindle edition.
About Law Offices of Christine A. Wilton
Consumer protection, bankruptcy and student loan lawyers of Law Offices of Christine A. Wilton represent families facing financial difficulties, burdened by debts including taxes, student loans, credit cards, medical bills, law suits, fallen behind on home mortgage payments, or facing auto loans they can no longer afford. The firm has helped clients eliminate student loan debt and helped reduce principal mortgages through the bankruptcy process. The law firm is passionate about helping clients achieve financial freedom from their debts and fights oppressive debt collectors.
For more information please call 877-631-2220 or visit their website http://www.attorneychristine.com/ for a free consultation.