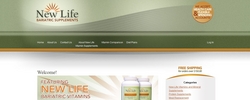 Knoxville, TN (Vocus) November 2, 2010
At the New Life Center for Bariatric Surgery, with the support of New Life Bariatric Supplements in Knoxville, TN, board-certified bariatric surgeon Dr. Stephen Boyce offers custom diet plans and a number of supplements and bariatric vitamins to help his weight loss surgery patients stay healthy through the process of losing weight. In support of medically supervised to surgical weight loss treatment, Dr. Boyce says New Life Bariatric Supplements strives to meet their patients' needs and desires, which is why the center recently announced the scientific improvement of several important and popular products and services, such as bariatric surgery meal replacement plans, gastric bypass diet plans, and weight loss surgery vitamins in Knoxville. TN.
To off-set potential vitamin deficiencies that can occur during the dramatic weight loss achieved with gastric bypass or other weight loss surgery procedures, Dr. Boyce and New Life Bariatric Supplements recently began carrying an orange chewable vitamin with improved texture and added calcium to ensure patients receive necessary nutrients. Dr. Boyce says the most common deficiencies in bariatric patients tend to be Vitamin D, Iron, and Calcium; therefore, the additional calcium in the weight loss surgery vitamins, along with the improved texture and taste, helps patients continue the supplement regimen.
At the New Life Center for Bariatric Surgery, Dr. Boyce also offers bariatric surgery meal replacement to aid his patients in the overall adjustment period. The New Life Meal Replacement shakes and protein bars are fully-fortified when taken with New Life Vitamins, and are an effective way to replace a meal to reduce overall caloric intake while adjusting to the surgical weight loss diet plan. Another new product the New Life Bariatric Supplements is offering is a 100% complete bioavailable protein supplement in the new grape flavor, which Dr. Boyce says has been improved to the point where his patients can drink the Proteinex® directly from the bottle.
Whether Dr. Boyce is performing bariatric surgery in support of his New Life Center for Bariatric Surgery patients, or developing an individualized diet and nutrition plan at New Life Bariatric Supplements, he says his ultimate goal is to reverse the serious medical conditions related to obesity, including diabetes, hypertension, and sleep apnea, in pursuit of a happier, more functional life. With the new vitamins and supplements, Dr. Boyce adds that, by improving the overall nutrition of his patients, he is increasing their overall chance for success with weight loss surgery.
About New Life Bariatric Supplements
New Life Bariatric Supplements carries custom formulated vitamins and nutrients developed for bariatric surgery patients, and further individualized by Dr. Stephen Boyce with consideration for each patient's medical history and current health. The vitamins are manufactured in the United States by a full-service manufacturer of nutritional supplements dedicated to providing a quality product, while adhering to strict practices in accordance with federal and worldwide regulatory standards.
The New Life Center for Bariatric Surgery is located at 200 Ft. Sanders West Blvd., MOB 1, Suite 200, Knoxville, TN 37922; and can be reached at (865) 694-9676 and http://www.parkwestcwlc.com/. New life Bariatric Supplements can be found at http://www.newlifebariatricsupplements.com/
###