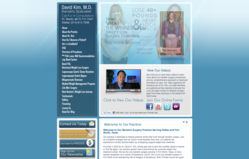 Dallas, TX (PRWEB) July 20, 2011
The Live Life Again Center for Bariatric Surgery and Dr. David Kim are announcing the winner of their weight loss surgery contest. Vicki Luna was one of nine finalists selected from the initial round of video entries, in which patients explained how weight loss surgery would change their lives. Following an online voting period, Vicki was declared the winner. She will now undergo bariatric surgery at the Live Life Again Center, and provide an inside-look at the entire weight loss process.
After conducting a massive networking campaign in which she enlisted the help of her entire community, Vicki received thousands of votes in the weight loss surgery contest. She created flyers and wristbands, handed out flyers and goodie bags, and spoke to family, friends, coworkers, the local police department, recital attendees, and church parishioners. Once selected as a finalist, she says she spoke to anyone and everyone willing to listen because of the magnitude of this opportunity and her passion for making a healthy change as she strives to life the life she desires.
As the Dallas bariatric practice and Dr. Kim prepare Vicki for the weight loss procedure, they have expressed their excitement for the results of the contest as well. Dr. Kim says the entire Live Life Again staff anxiously await the next step for Vicki, and believe she will act as a source of inspiration for many people considering a healthy transformation and a new chapter in their lives.
About Dr. Kim
Dr. David Kim earned his medical degree from Northeastern Ohio Universities College of Medicine. He then completed his general surgery residency at Case Western Reserve University School of Medicine, where he also served as Chief Resident of general surgery. Dr. Kim completed a peripheral vascular surgery fellowship at Park Medical Center, and a laparoscopic gastric bypass fellowship at the Medical College of Virginia. He is a fellow of the American College of Surgeons, and a member of the American Society for Bariatric Surgery and the American Society of General Surgeons. Dr. Kim specializes in a range of bariatric procedures, including the LAP-BAND System, gastric banding, and the gastric sleeve surgery.
The Live Life Again Center for Bariatric Surgery is located at 35 Veranda Lane Suite 100 in Colleyville, TX 76034. Fort Worth patients can reach the practice at (817) 717-7447, and Dallas patients can call (214) 614-7036. The practice can also be found online at drdkim.net, mylapbanddallas.com, or the Live Life Again Center for Bariatric Surgery Facebook page.
###