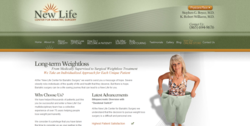 Knoxville, TN (PRWEB) May 04, 2011
Keith Stewart is 60 pounds lighter following the unique, medically supervised program at Covenant Weight Loss Management Center. Since losing the weight with the help of Stacy Smith and Barbara Foster of the Covenant Weight Management Center, and their medical director, weight loss surgeon Dr. Stephen Boyce, Stewart has completed a mountain-climbing adventure and has run a total of 52 miles in the form of two half marathons and one full marathon.
To show his appreciation for the support and guidance he received, Stewart presented the Covenant Weight Management Center team with his medal from the Key West Half Marathon. He says running the recent Covenant Health Knoxville Marathon is especially important to him because it is sponsored by the weight management center, and exemplifies their dedication to permanent weight loss and a healthy transformation.
About the Covenant Weight Management Center
Offering both nonsurgical and surgical weight loss options, the Covenant Weight Management Center specializes in individualized patient care for patients who are affected by morbid obesity. The bariatric procedures are performed at Parkwest Medical Center, where the center also sponsors free weight loss surgery seminars every month. For more information, call the New Life Center for Bariatric Surgery (865) 694-9676.
About Dr. Boyce
Dr. Stephen Boyce provides bariatric surgery in Knoxville, along with all-encompassing weight loss support to ensure permanent and healthy weight loss with a nutritionally-balanced diet. He earned his medical degree at the University of Texas Southwestern Medical School, and completed his surgical residency at the Parkland Memorial Hospital. Dr. Boyce has performed thousands of weight loss surgeries, and has completed his Masters Certification in Bariatric Surgery and is a Fellow of the American Society of Metabolic and Bariatric Surgery.
His New Life Center for Bariatric Surgery is an ASMBS-designated Bariatric Surgery Center of Excellence®, and is located at 200 Ft. Sanders West Blvd., MOB 1, Suite 200, in Knoxville, TN 37922, and can be reached at (865) 694-9676, or found online at http://www.newlifebariatricsurgery.com or the New Life Center for Bariatric Surgery Facebook page.
###