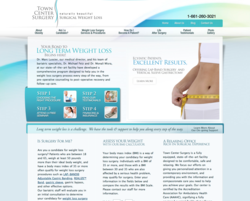 Diets don't last. The term 'yo-yo' dieting usually is what most obese patients experience.
Los Angeles, CA (PRWEB) July 20, 2011
The FDA has approved the LAP-BAND® weight loss procedure for use in patients with a body mass index (BMI) of 30-35 with one or more obesity-related comorbid conditions. The approval could have a tremendous impact on the more than 26 million Americans that fall into this category. According to Dr. Marc Lussier, this news from the FDA is exciting because of the life-changing effects a procedure like this can have on his patients.
According to the annual data collected by the Centers for Disease Control Behavioral Risk Factor Surveillance System, the FDA approval could more than double the number of patients eligible for weight loss surgery in Los Angeles. Dr. Lussier highlights the high cost of "dieting" in the U. S., as Americans spend billions of dollars each year trying to make the transformation on their own. "Diets don't last. The term 'yo-yo' dieting usually is what most obese patients experience. Where they go on a diet and lose weight, but very soon after they go back to their 'normal lives' and the weight comes back and sometimes more than what they started with. This is very frustrating and can be depressing, not to mention the financial waste on a short term solution to a long term problem."
While weight loss procedures such as the LAP-BAND system® or gastric sleeve provide safe and effective pathways to weight loss, Dr. Lussier stresses patients must commit to permanent lifestyle changes if they hope to achieve and maintain a healthy transformation. He and his team of fellowship trained bariatric/weight loss surgeons and the Town Center Surgery team are committed and experienced in the needs of bariatric patients to help their patients achieve their weight loss goals throughout the entire process.
About Dr. Lussier
Dr. Marc Lussier is the medical director at Town Center Surgery, a practice dedicated to the comprehensive needs of the individual patient, ranging from weight loss surgery to post-bariatric aesthetic enhancement. He earned his medical degree from the University of Minnesota School of Medicine. Dr. Lussier completed a general surgery residency at New York Medical Center, and a plastic surgery residency at Baylor College of Medicine. He is a fellow of the American College of Surgeons, and a member of the American Society of Plastic Surgeons, the American Society for Aesthetic Plastic Surgery, and the Los Angeles Society of Plastic Surgeons.
Town Center Surgery is located at 24510 Town Center Dr. Ste 180 in Valencia, CA 91355, and can be reached at (661) 260-3021, or found online at towncentersurgeryweightloss.com or the Weight Loss Surgery Valencia – Town Center Surgery Facebook page.
###