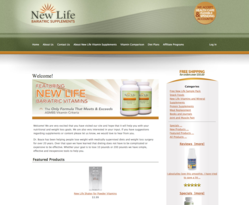 Knoxville, TN (PRWEB) October 13, 2011
According to the American Society for Metabolic and Bariatric Surgery (ASMBS), vitamin deficiency before and after weight loss surgery is a common concern for many patients. New Life bariatric supplements were originally developed by Dr. Stephen Boyce, a bariatric surgeon in Knoxville, TN, and exceed ASMBS vitamin criteria. In a recent, year-long study focusing on the post-operative nutritional health of 359 patients, the New Life [weight loss surgery vitamins] have been shown to significantly lower the deficiency rate due to improved compliance, lower cost, well-tolerated forms of consumption, and overall effectiveness.
The study included 311 Roux en Y Gastric Bypass patients, and 48 Biliary Pancreatic Diversion with Duodenal Switch patients. Patients were evaluated pre-operatively, and post-operatively at six and 12 months for deficiencies in iron, and vitamins A, B-1 and B-12, and D. The study showed that patients were 50% more compliant with the New Life bariatric supplements, which eliminates the need for multiple daily supplements by combining all ASMBS recommended vitamins and minerals in one complete formula.
The study also found that patients were more likely to continue taking the gastric bypass vitamins because they cost 30% less than average vitamin supplements. Additionally, the New Life vitamins were designed to be easier to take: tablets have an EZ swallow coating with a mild-vanilla flavor, powder vitamins easily dissolve in liquid with a mild citrus flavor, and the chewable vitamins come in a variety of flavors.
However, the most important finding to surface from the study is the fact that the vitamins were proven to be more effective than other brands of bariatric vitamins: post-operatively, gastric bypass patients taking the New Life supplements had 64-85% lower deficiency rates for each of the vitamins and minerals the ASMBS has expressed concern over.
About New Life Bariatric Supplements
New Life Bariatric Supplements are created for weight loss surgery patients from a custom formula originally developed by Dr. Stephen Boyce. The vitamins are designed to be easily adaptable to each patient's needs to improve overall compliance and successful rates of weight loss. They are manufactured in the U. S. by a nutritional supplement manufacturer with over 50 years of experience and dedication to creating a premium product. More information about the bariatric vitamins can be found online at http://www.newlifebariatricsupplements.com/.
[1] "ASMBS Allied Health Nutritional Guidelines for the Surgical Weight Loss Patient." ASMBS General Guidelines. Retrieved from asmbs.org/guidelines-statements/ on 10/4/2011.
###