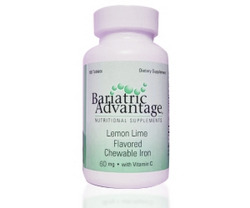 Irvine, CA (PRWEB) August 7, 2008
Bariatric Advantage is excited to announce that the new 60mg Lemon Lime flavored Iron is finally here and available for sale! "The market has been wanting proven product, value priced, that could compete with prescription forms of Iron for years now, said Thomas L. Kinder, President and C.E.O. of Catalina Lifesciences, Inc. manufacturers of Bariatric Advantage.
The product was developed to make it easier to supplement iron in those patients taking higher daily doses of iron. Each tablet of our new 60 mg Iron is the Iron equivalent of one Ferrous sulfate 325 only in a great tasting and easy on the stomach form of Iron.
This product also has the following features and benefits:

250 mg vitamin C. Vitamin C helps to enhance the absorption of iron, this has been studied in weight loss surgery
Enhanced with Fructoligiosaccharides. This pre-biotic supports the uptake of iron.
Great taste - the product is a delicious Lemon-Lime flavor
Savings and convenience - if you are taking a higher dose of iron, this product allows you to take fewer pills and saves money as compared to prescription iron
Please contact your local Bariatric Advantage sales representative or contact customer care at customerservice @ bariatricadvantage.com or 800.898.6888 for additional information on the product -- including pricing and sample availability. Our customer care department is open Monday – Friday from 6:00 AM – 8:00 PM Pacific and on Saturday from 7:30AM to 4PM Pacific.
About Bariatric Advantage:
Bariatric Advantage (http://www.bariatricadvantage.com) is committed to the weight loss surgery market including surgical programs, patients, support groups and the allied medical professionals who have dedicated their careers to helping improve the lives of the recovering obese patient. Our philosophy is simple, gather scientific data, provide this data to medical and nutritional experts for their review and analysis, then use this process to guide us in our development of unique nutritional supplements. Finally, we measure and publish the results of the patient experience scientifically through lab and other related tests.
Contact: Jonathan Lloyd, Vice-President of Operations at 800.898.6888 for additional information about the company.
# # #